Sydney Powerhouse Wants to Grow With 3×3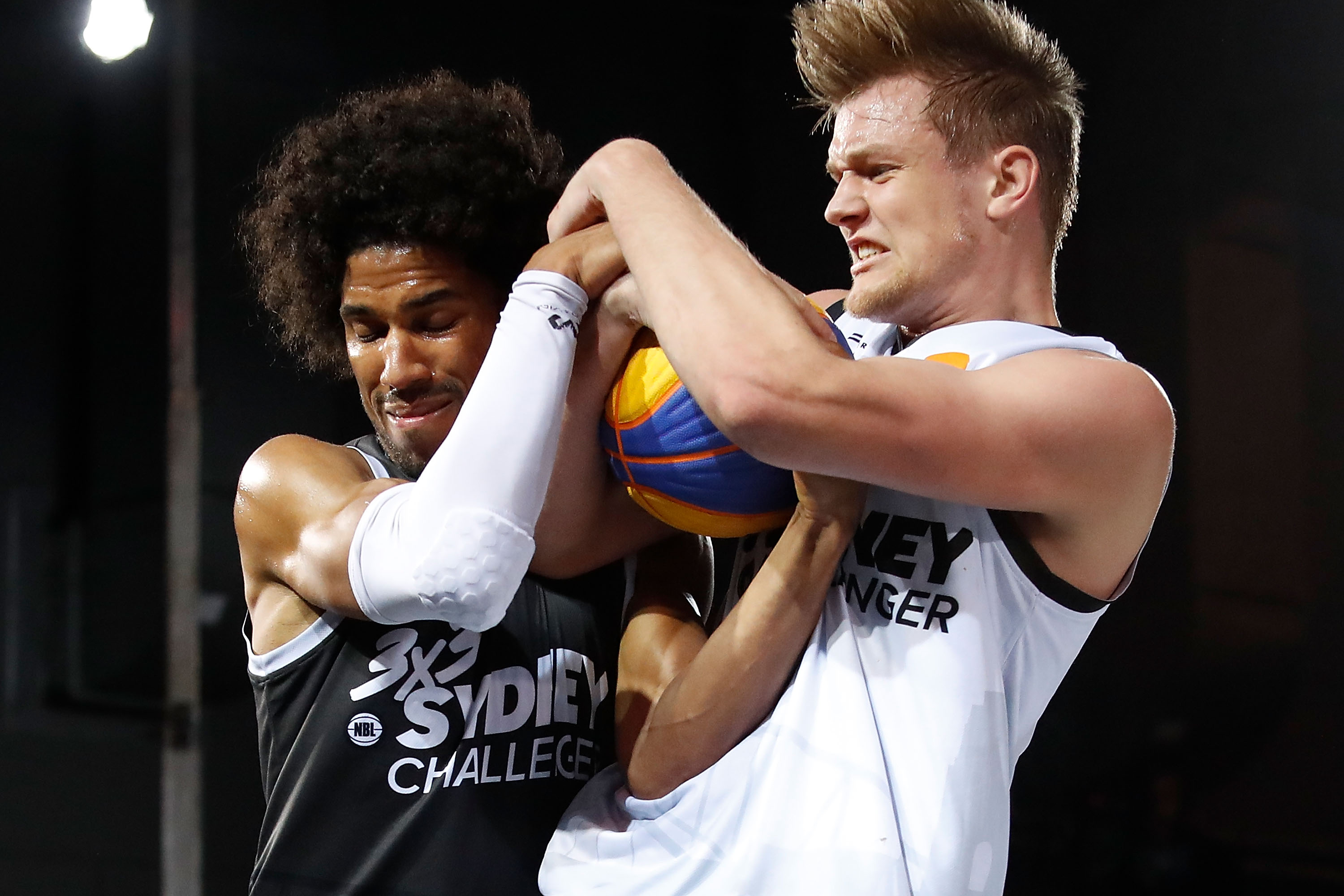 He is happy to attract attention by bringing down backboards but Cooper Wilks is focused on the bigger picture with his basketball and wants to ride this wave with the 3×3 game given it's already taken him on two trips to China leading into this year's Pro Hustle Tour.
Wilks is a powerhouse 6'8 athlete weighing over 100kgs so when he attacks the basket, the rims tend to come off second best as smashing two backboards during last year's Sydney Challenger event supported by the NBL showed.
And any time the chance comes up, he's going to be throwing the ball down with ferocity but the 23-year-old Sydneysider is looking to the 3×3 game for much more than the odd highlight video showing his power.
Already he has competed in the past two FISU World University League Finals in China as part of the Macquarie University team which proved to be two tremendous opportunities that only the growing sport of 3×3 basketball can provide.
Wilks is now the no. 12 ranked 3×3 player in Australia heading into this year's Pro Hustle Tour starting in Melbourne on March 31, before heading to Geelong in mid-April and then Darwin at the end of the month.
Wilks likes the team he will be part of and is especially excited to test himself further against a host of big-name stars, led by Tom Garlepp who he continues to try to learn plenty from.
"The team that we've got together is a really good group. We've played together a few times and Mike Golding and myself are probably the more experienced but the other two are fantastic young players who can shoot the ball and play defence – Kieran Fitzgerald and Jayden Prakash," Wilks said.
"It's a group that we've been to China with and have got some experience with. I know the Pro Hustle event is going to be a very good competition with a lot of exceptional athletes there, so we are looking forward to the challenge and getting out there and competing.
"Tommy Garlepp has always been someone whose game I've admired with the way he plays. We are pretty similar and the areas I've been looking to improve on like my shooting are things that he excels at.
"I kind of look at him to see ways I can improve and it's great the calibre of players getting involved. There's heaps of ex-NBL players, a lot of SEABL players and it's a great chance to prove yourself out there to see how good you really are."
Expect to see Wilks attacking the basket every chance he gets too and if the rims have to pay the price for that, then so be it. It's that physicality and bit more freedom to throw your weight around in the 3×3 game that Wilks thrives on.
"Whenever I have the opportunity to get up there I'll be looking for it, I absolutely love it. I do remember that competition," Wilks said.
"After the first one he was excited and said it was cool, but asked me not to break this second one. Then when I got the second one too he wasn't too impressed but absolutely, if I get the chance to go up there I'm always going to go for it.
"One of the best things about 3×3 is the physicality that you can play with. I'm a bigger guy and I love being able to bump bodies and whatever inside, it's always well intentioned sort of stuff."
"But it's great to be able to play more of that physical side and they are only 10-minute games so you just have to go hard for that whole 10 minutes. I think one of the biggest things is that in 5×5 you can sometimes kind of hide yourself defensively or offensively if you have some weaknesses.
"But in the 3×3 game, if you've got those weaknesses it becomes clear pretty quickly because there's no place to hide. You've got to have a pretty well-rounded game to be able to compete at that level and it's pretty great."
Wilks had never put too much thought into the 3×3 game until a FISU Oceania World Uni League qualifying series popped up on the Gold Coast in August 2017.
He teamed up with Alex Selvarajah, Huw Smith and Golding and they won the tournament to book their trip to China later in the year where they finished sixth.
That ignited Wilks to really throw himself into the 3×3 game throughout 2018 including taking part in Pro Hustle Tour as well as that Sydney Challenger and then a couple of CLB 3×3 events.
That all took him back to China again last November and now he sees no reason why he can't continue to grow with the 3×3 sport in Australia.
"I first sort of got started around the uni competitions that we had. We had a 3×3 comp on the Gold Coast and the winner got to go to China. I remember it being very under-advertised and the competition wasn't super high or anything," Wilks said.
"We lost out the first time but we figured we had a shot here if we really put our minds to it and put a bit of effort in.
"We made the most of that comp and won the trips to China twice and that's when I realised I could actually start going places and doing something with this sort of thing. From there I started competing in all the Pro Hustle and CLB events that we can find."
Experiences like getting to travel to China and be treated like a professional show the potential that making 3×3 basketball your focus has and Wilks is glad to have his foot in the door early as it begins to take off in Australia.
"It was huge for me and our team to be honest," he said.
"We had never really considered being able to do that sort of thing with our basketball so for a bunch of young guys still at uni to be able to compete at a level and go over and play in China, and be looked after like we were was pretty surreal. It was an incredible opportunity and I'm grateful we were able to do it.
"It's still very much an emerging sport in the Australian market but over in Europe, it's taking off in places like Serbia. It's a lot bigger over there but I can only see it getting bigger here."
"There are more organisations getting involved now, more prizemoney getting involved and there's the NBL partnership with some events. It's being broadcast now too so it's only going to keep growing. I'm very glad I was able to get on board nice and early to kind of ride that wave."
None of that means Wilks hasn't given up on continuing to push himself to grow in the 5×5 basketball game either.
He will always continue to grow as much as he can to reach the highest level, but to have the inside running with 3×3 in Australia is something he continues to be excited about seeing where it leads.
"I'm still playing Manly ABA at the moment and there are similarities in the games and it's always going to be basketball, but it's a different mindset and you need slightly different abilities in each game," he said.
"I think it's great to still play my Manly ABA with my friends there and then come out and do my thing with the 3×3 squad. I was lucky enough to train with the Sydney Kings as part of their training squad for a couple of months before I had to give it up for uni and that sort of stuff, but that was an incredible opportunity to play against guys like Bogut in training.
"I've also done a lot of 5×5 things where I've gone on tours overseas with different organisations to play and I played a year in college, and won a championship with the University of New Brunswick over in Canada.
"I've really just been trying to expand on my 5×5 and 3×3 games as much as I can. But with the emerging of 3×3, the fact that I got my foot in the door early kind of helped boost that as my main platform now. I'm looking forward to pushing that one up."
Given the way 3×3 basketball is still emerging but has already taken off globally, being accepted into the Olympic Games, Wilks sees no reason to set any ceiling on what he can accomplish over the next decade.
It's just hard right now to narrow down what he could be aiming for because who knows where it could all lead.
"It's always hard to kind of picture long-term goals but you have to set your sights on something, and I know Mike and myself are just outside the top 10 rankings for Australian players at the moment," Wilks said.
"We are trying to break into that and once we've got that then we will see how we go in the Pro Hustle, and keep trying to exceed expectations.
"Being able to make it to the world events and things like that would be an incredible opportunity to compete against those professionals overseas. I'm definitely always looking ahead."