Former NBL stars rock MARVEL Stadium for the 3×3 Corporate Hustle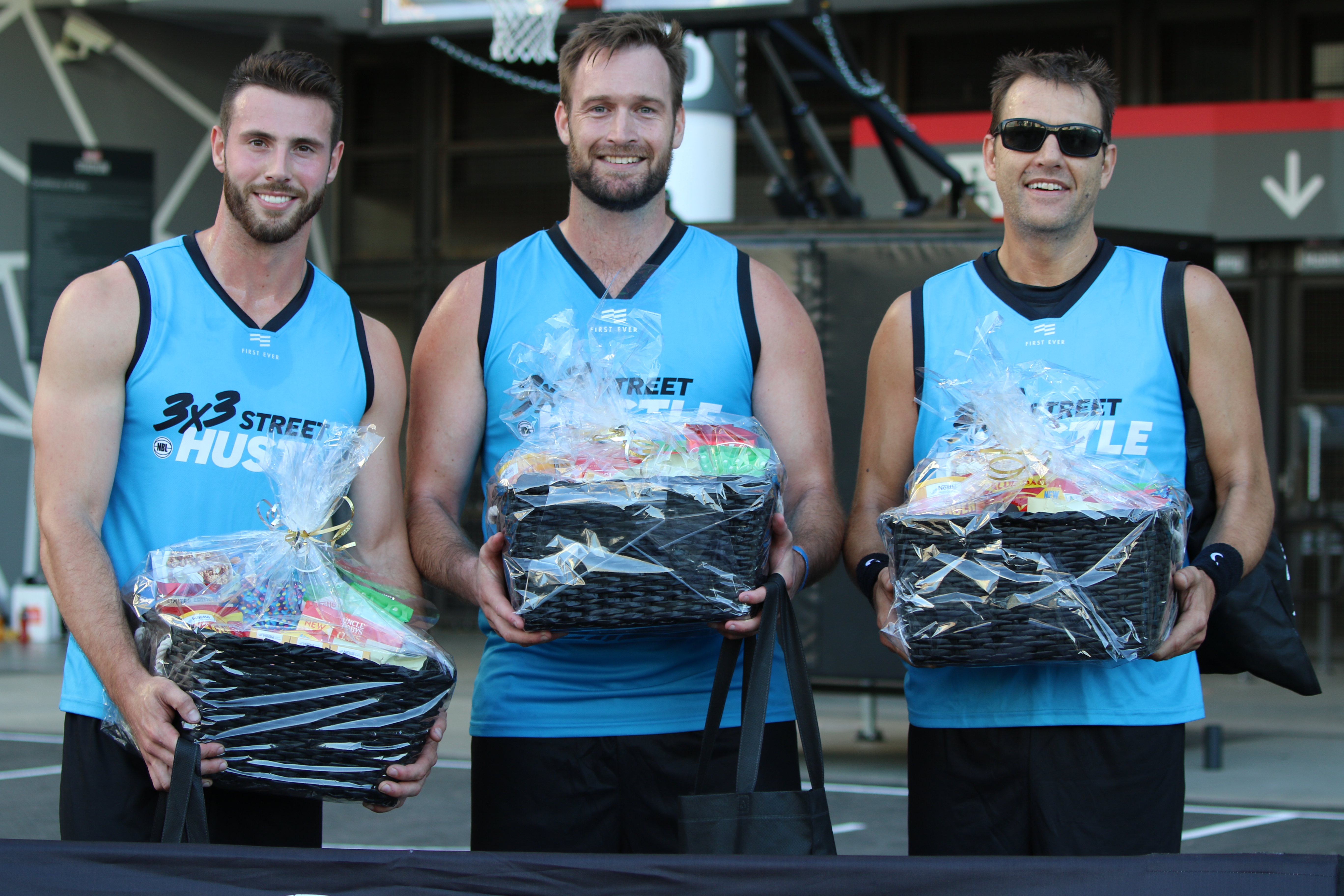 Mark Worthington, Felix von Hofe, Daryl Corletto, and Stephen Hoare.
You could be forgiven for thinking you were watching an NBL replay show, save for the uniforms, the outdoor courts in the shadow of Marvel Stadium, and the significantly lower stakes.
We're talking about, of course, the 3×3 Corporate Hustle: an invitation only event that pits the high flyers of the corporate world against each other to see which office gets to shout everyone their next stationary order.
But whether it's a championship, or a sponsor's gift basket, these are players who don't really have an "off-switch", and the white-line fever was evident when the Sportsbet team faced off against La Trobe Financial in the final, something that Worthington, a former NBL Champion and Boomer, saw first-hand.
"The day was about having a laugh, enjoying the day. But when you've been there all day and you get to the final, you want to win," Worthington said.
In a thrilling contest that saw von Hofe and Corletto go toe-to-toe and shot-for-shot for the majority, Sportsbet were the eventual winners, with their overall quality overpowering Corletto's attempted heroics.
"Felix was shooting the ball well in the final, but can't play a lick of defence, so I had to take over defensive duties on Corletto," Worthington said.

Corletto drained multiple two-pointers, despite being heavily guarded by Worthington's ball denial defence, but couldn't manage to shoulder the load on his own. One final heave at the hoop to tie the scores was unsuccessful, and an easy Sporstbet bucket moments later sealed the victory. But, despite the competitive nature of the final, the 3×3 Corporate Hustle was more about the social element of basketball.
"Most people were there to have a bit of fun. I think it was a success of a day largely due to the networking aspect," Worthington said.
"That's one good thing about basketball, it brings people together, and you get to talk to and meet people you maybe wouldn't necessarily interact with"
The only casualty of the day was two-time NBL Champion Stephen Hoare who, while representing La Trobe Financial in the final, pulled up with what appeared to be a severe hamstring tear.
"I was just glad that my team got away unscathed, unfortunately Hoarey wasn't so lucky.
"I was with him (Hoare) the other night, and was guarding him when it happened, and I could tell immediately that it was a bad one," Worthington said.
Want to #GetInvolved? Tickets for the 3×3 Pro Hustle Tour are on sale now! CLICK HERE for more information.