Riga win first-ever FIBA 3×3 World Tour title at Jeddah Final 2020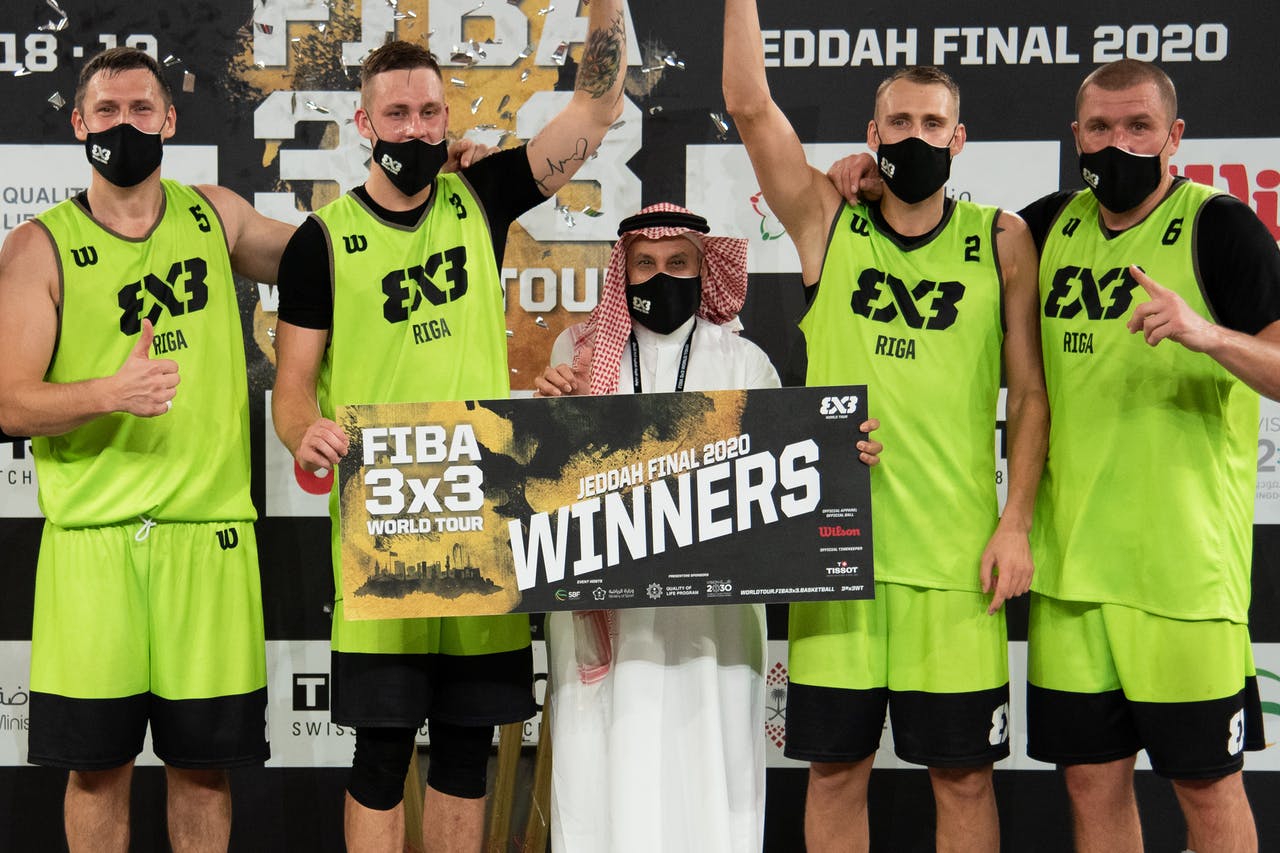 Riga won the ninth edition of the FIBA 3×3 World Tour in Jeddah, Saudi Arabia, after defeating Liman (SRB) in the championship game on December 19, 2020 on an unbelievable Tissot Buzzer Beater.
Just a month after beating Liman at the buzzer in the final of the Doha Masters, the Latvians did it again. With their back against the wall as Liman needed just one basket to win, the Jeddah Final MVP Nauris Miezis hit an incredible one-legged shot from well beyond the arc, good for the 60,000 USD winning cheque.
The 'Batman and Robin' of 3×3 shined in Jeddah as Karlis Lasmanis aka 'Batman' topped all scorers with 37 points.
Riga put an exclamation point on an amazing season, that saw them win two of the four Masters. After starting the season 9-3, they finished on a 10-game winning streak in Doha and Jeddah.
His Royal Highness Prince Abdul Aziz bin Turki Al-Faisal, Saudi Arabia's Sports Minister, was in attendance during the Final, the first international sporting event in Saudi Arabia since the start of the pandemic.
3×3 enthusiasts worldwide were given a chance to attend the event as their videos were displayed on the giant screens during the prestigious two-day event.
In the individual contests,  Piotr "Grabo" Grabowski (POL) won the Qualify of Life Dunk Contest while Stefan Kojic (Liman) won the SBF Shoot-out contest.
JEDDAH FINAL STANDINGS
1. Riga (LAT)
2. Liman (SRB)
3. Utena Uniclub (LTU)
4. Novi Sad (SRB)
5. Jeddah (KSA)
6. NY Harlem (USA)
7. Ub (SRB)
8. Amsterdam (NED)
9. Sakiai Gulbele (LTU)
10. Ulaanbaatar MMC Energy (MGL)
11. Piran (SLO)
12. Lausanne Katapult (SUI)