Latrobe Valley goes back to sport with 3x3Hustle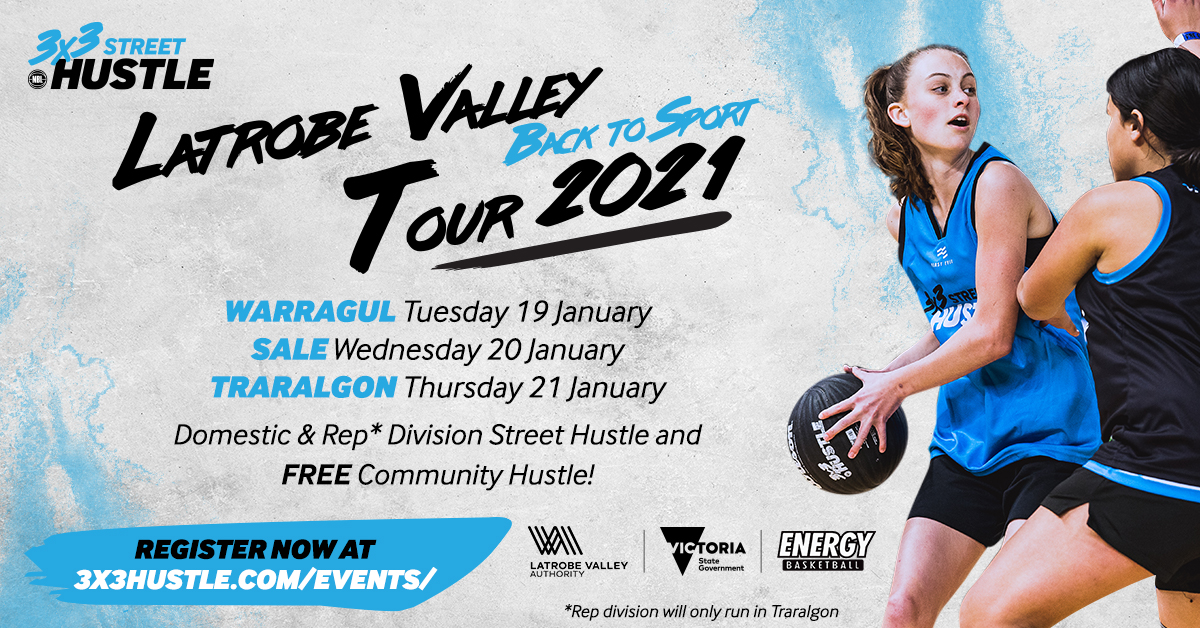 Latrobe Energy Basketball and the NBL 3x3Hustle are delighted to announce a trio of 3×3 Street Hustle events as part of January's Latrobe Valley Back to Sport Tour, supported by the Latrobe Valley Authority.
The tour will begin on Tuesday January 19 in Warragul before going to Sale on Wednesday January 20 and concluding on Thursday January 21 in Traralgon.
The events will enable basketballers in the Latrobe Valley to hit the 3x3Hustle court again while music and family friendly activities will create a safe and fun environment for all. Free 3×3 Community Hustle clinics will also take place each day with plenty of prizes up for grabs.
All stops will have a Street Hustle Tournament with the Traralgon event focusing on representative level players.
Registrations for all three events are now open at 3x3Hustle.com/events. For more information on the Warragul event click here, for more information on the Sale event click here and for more information on the Traralgon event click here.
3x3Hustle Director and NBL Chief Operating Officer Andy Crook said: "We are thrilled to be a part of the Latrobe Valley's Back to Sport Tour.
"We thank the Latrobe Valley Authority and Latrobe Energy Basketball for their support of the NBL 3x3Hustle and we look forward to seeing the talented basketballers of the region hitting the 3×3 court in the new year."
Latrobe Valley Authority Acting CEO Mike Timpano said: "The Latrobe Valley Authority is pleased to partner with the NBL and Latrobe Energy Basketball to bring 3x3Hustle events, clinics and community activations to the Gippsland region next year.
"This is a great testament to the Gippsland region's elite sporting venues which are helping to attract high profile events and inspire the next generation of home-grown athletes."
Latrobe Energy Basketball President Daniel Scholtes said: "We are so excited to be partnering with the NBL 3x3Hustle and the Latrobe Valley Authority to be bringing these events to our region.
"We can't wait to see a new wave of basketball talent coming through the region in this new and exciting format of the game."
The 3×3 Street Hustle events will be open to male and females in multiple age groups including 12s, 14s, 16s and 18s.
All events during the Latrobe Valley Back to Sport Tour will be ran with COVID safe protocols in place.
3×3 basketball will make its Olympic debut in 2021 and Commonwealth Games debut in 2022.