Riga Win FIBA 3×3 World Tour Hungary Masters 2020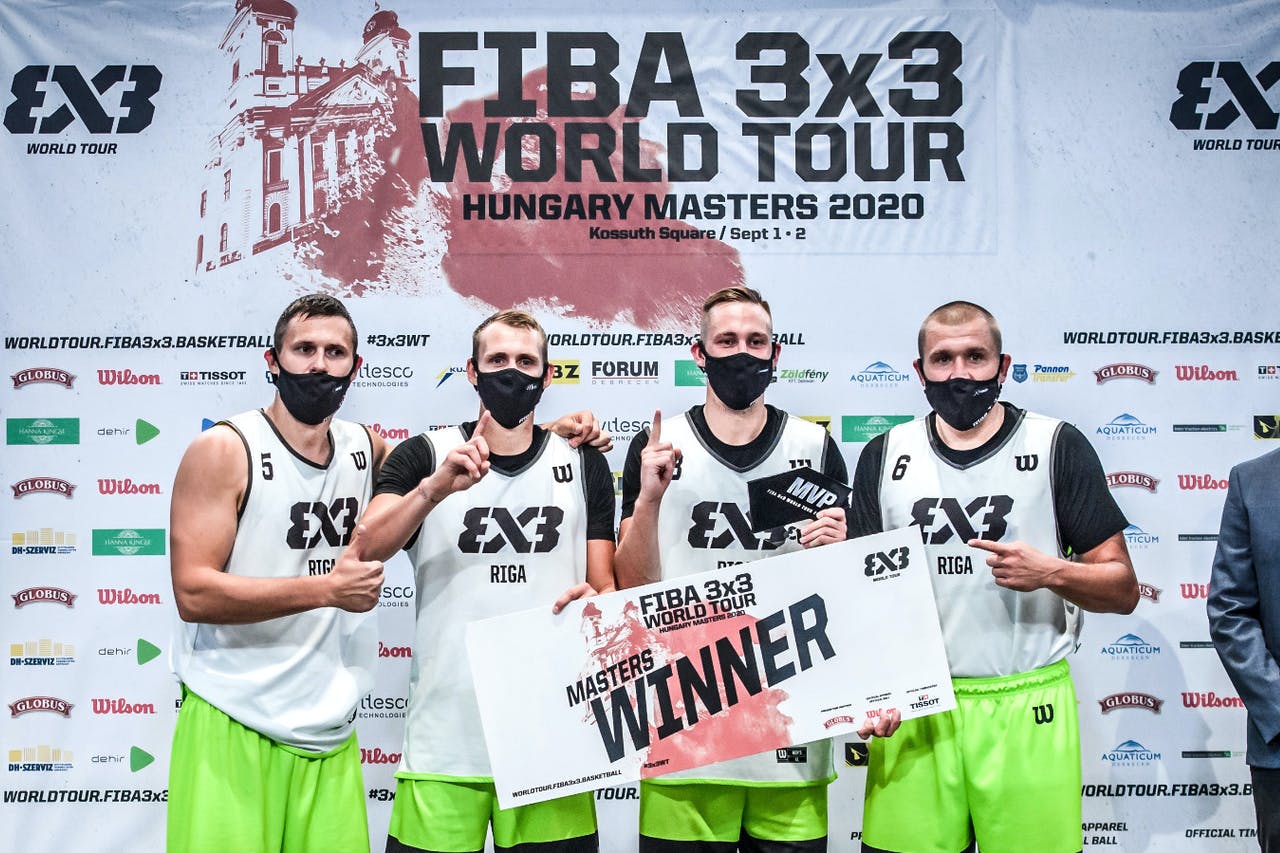 Riga (LAT) survived an absolute thriller in the final to win the FIBA 3×3 World Tour Hungary Masters on September 1-2, 2020.
After losing to Ub (SRB) in the pool stage, Riga had the last word in a nail-biting 21-20 final. Sharpshooter Edgars Krumins had a team-high nine points but it was his teammate Nauris Miezis who scored the Tissot Buzzer Beater for the championship.
The former number one 3×3 player in the world Karlis Lasmanis was named MVP of the event after leading Riga in Player Value and finishing third overall in scoring. It was Riga's fourth ever Masters win.
Ub fell just short of their first title on the World Tour, despite Ivan Popovic topping all scorers in the final with 11 points. Before that, his teammate Miroslav Pasajlic hit the biggest shot of the tournament, a step back two-pointer to knock out the four-time World Tour winners Novi Sad in the semi-finals.
In the individual contests, Piotr Grabowski (POL) won the Wilson Dunk Contest while NY Harlem's Dominique 'Disco Domo' Jones prevailed in the Tissot Shoot-out Contest.
It was the second of three Masters, taking place in Debrecen for the return of 3×3. The Europe Masters will follow on September 4-5.
All the health and safety measures requested by local and national authorities and the Guidelines for the Return to Basketball, developed by the FIBA Medical Advisory Group (MAG) were implemented for the occasion.
FINAL STANDINGS
1. Riga (LAT)
2. Ub (SRB)
3. Novi Sad (SRB)
4. NY Harlem (USA)
5. Piran (SLO)
6. Jeddah (KSA)
7. Liman (SRB)
8. Ulaanbaatar MMC Energy (MGL)
9. Lausanne (SUI)
10. Sakiai (LTU)
11. Humpolec Bernard (CZE)
12. Debrecen (HUN)
13. Gagarin (RUS)
14. Antwerp Ladbrokes (BEL)