"Nothing Made Sense": Plouffe Sisters on Missing Olympics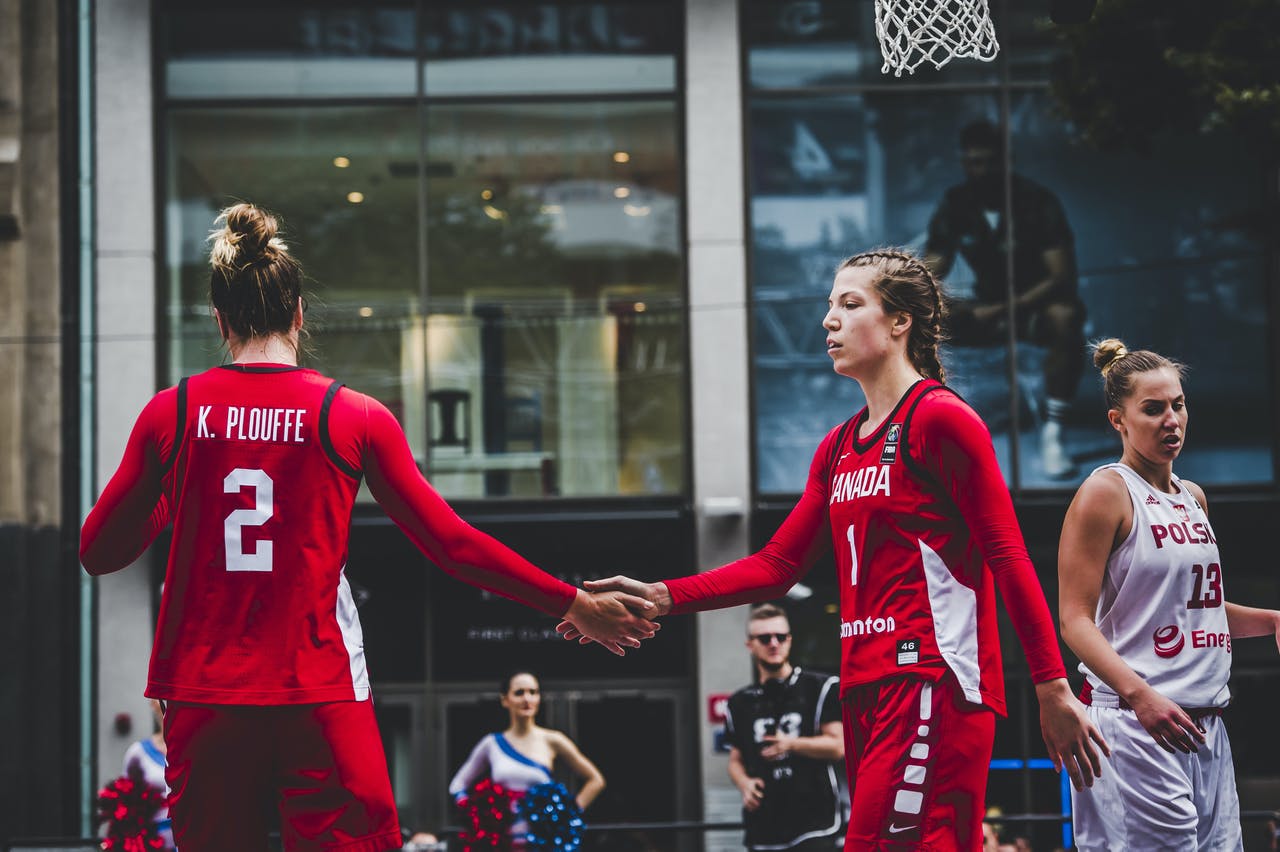 Canada's top 3×3 women's basketballers, Michelle and Katherine Plouffe, say they were caught in a year where "nothing made sense" about how nations qualified for the sport at the Olympics
The discipline of 3×3 basketball will make its Olympic debut in Tokyo next year but Canada's women's team won't be involved, as they didn't make the Olympic Qualifying Tournament.
Canada's credentials in the sport are unquestioned, as three of the top nine women's players in the world are Canadian and the team won four Women's Series stops in 2019.
Michelle has opened up on how the team felt when they found out they didn't qualify but is hopeful things will progress in a positive direction in the future. 
"We said we knew it was going to be close, we obviously didn't know all the rules, but I couldn't logically think that if you're one of the best teams they wouldn't let you in," Michelle told the 3x3Hustle Hype Podcast.
"That was our motivation and we were obviously super disappointed and shocked.
"We went to a women's World Series meeting and I see now they've changed the ways they count ranking points. Things are changing which is good going forward."
On the latest #3x3Hustle Hype Podcast with @greg4hire, @Plouffey_15 & @KPlouffe21 discuss @CanBball 🇨🇦 missing out on the @FIBA3x3 Olympic Qualifying Tournament and more 🏀

Spotify: https://t.co/rerOuhyBKF
Apple Podcasts: https://t.co/wJV5Xue95H
YouTube: https://t.co/TNKEhIdnZR pic.twitter.com/SOrEQbg6Mw

— 3x3Hustle (@3x3Hustle) May 21, 2020
Katherine echoed those thoughts and acknowledged FIBA put in a mountain of work to get 3×3 basketball into the Olympics.
"I did go to a meeting about the World Series after the series and I walked away with some understanding on why they have certain rules but even they knew some things weren't going to stick," Katherine said.
"Unfortunately, we were caught in the year where nothing made sense.
"I understand more now, I still don't agree with all the rules, but they were doing everything they could to get it in the Olympics in the first place, whatever way they had to do that. I'm glad it's in the Olympics and it's going to be hard to take it out of the Olympics now."
With more focus on the sport in Canada, the Plouffe's hope they can work together with the nation's governing body to develop 3×3 players in the country.
"I don't think we know what the future exactly holds because it was so different the way we did it in 2019," Michelle said.
"We were technically under Canada Basketball, but we did it all ourselves, we self-funded ourselves. Now it is in the spotlight and more light is shed on the sport, which was one of our goals, was to bring the sport more attention for females.
"Now that Canada Basketball is more involved, they have hired someone to be the director, it's not really in our hands at this point.
"We kind of have to wait and see what plan they have. I would like to continue to play 3×3 because it's super fun, it improved my five-on-five game because you get to do so many things."
Listen to the 3x3Hustle Hype Podcast every Thursday. Greg Hire is joined by a special guest each week to discuss the world of 3×3 hoops. Available on Spotify, Apple Podcasts and YouTube.
The views on this page do not necessarily reflect the views of 3x3Hustle, the NBL, its Clubs or partners.