NBL Combine Star Gatlin Embraces 3×3 Game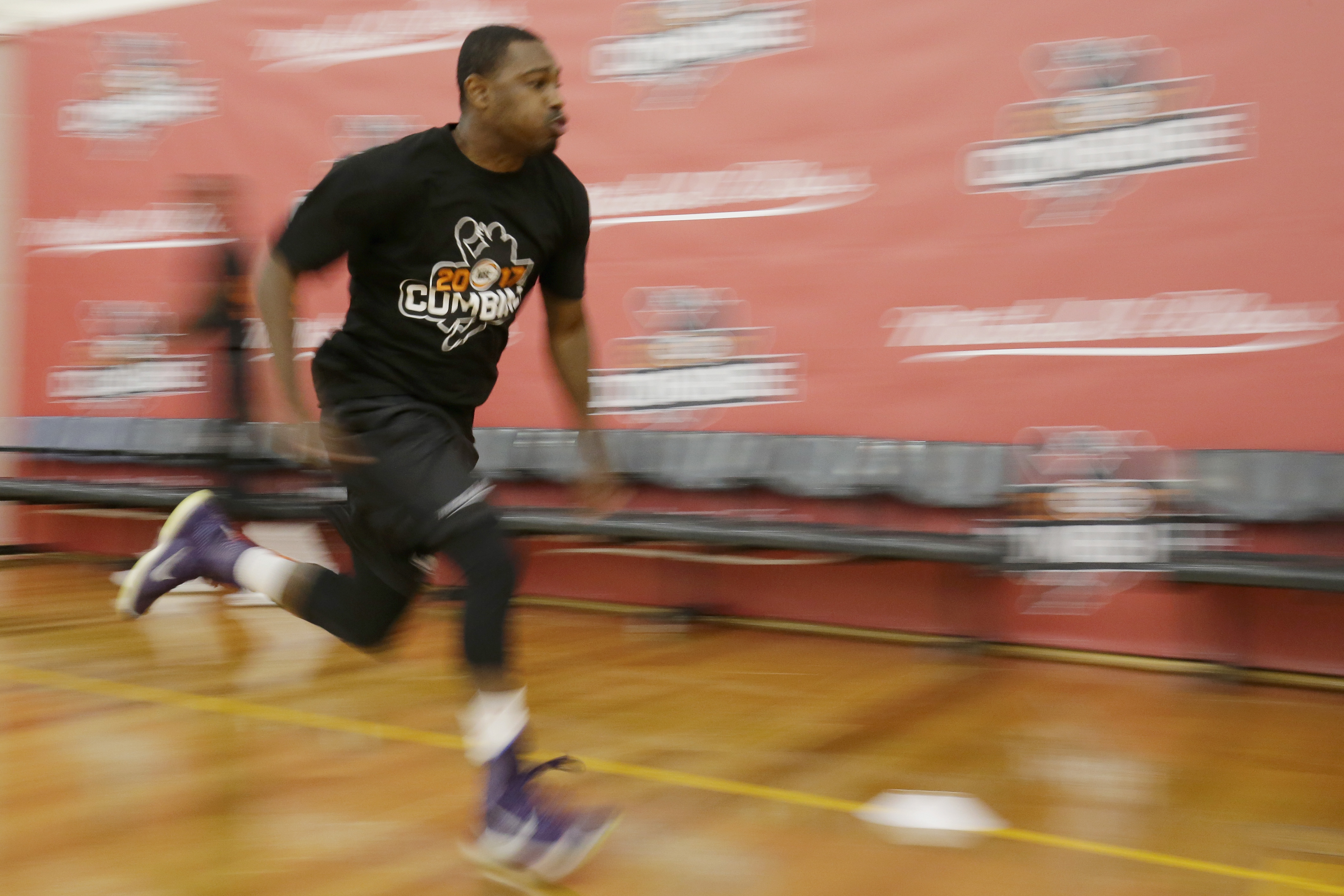 DeMarcus Gatlin has all the athleticism in the world and has enjoyed three years at the Geelong Supercats, but overcoming three serious knee injuries and the rollercoaster life as a professional basketballer as he adds another string to his bow with the 3×3 game.
Following a strong college career at Sam Houston State University, Gatlin was in limbo for sometime over where his pro career would take off but when the Geelong Supercats of the SEABL came calling back in 2016 he jumped at the chance.
Even though he had battled back from three serious knee injuries and the unknown of trying to make a living overseas, the Houston-native threw himself into everything at the Supercats and has enjoyed coming back for three straight years.
With athleticism that's off the charts highlights by his showing at the NBL Combine in 2017 and a strong all-round game as a 6'4 guard, Gatlin has plenty to offer but it always remains stressful anytime one season ends and the future is unknown.
The 25-year-old is currently back in Houston weighing up European or local ABA offers for his next step, but in the meantime he has joined a Geelong 3×3 representative team that will be playing in an upcoming tournament in Chinese Taipei.
Gatlin is looking forward to the opportunity and will be going there with his Geelong teammates to win and represent Australian basketball proudly.
"I just know we are going to go out there and compete, and do our best to represent Australian basketball. I don't know much about 3×3 but I know the team that we have going out there will compete and we'll try to win it, and represent Australian basketball," Gatlin said.
"After my first year when our season was over with, we had a 3×3 competition in Geelong that me and Liam McInerney played in and we actually won that.
"We were supposed to go and play in Melbourne but we ended up being in SEABL playoffs and our coach didn't want us to go play in that. So I have a little experience of playing 3×3 basketball and we are looking forward to the opportunity."
The growth of the 3×3 game highlighted in Australia by the NBL backing this year's first ever professional events in Melbourne and Sydney means that for players like Gatlin it's another opportunity to play basketball and see different parts of the world.
"It will be a great experience and obviously a professional basketball player and it takes me to different places, but I would have never thought I'd go to somewhere like Taiwan. It's pretty great and I'm looking forward to it," he said.
"Every time you get an opportunity to play basketball it's a chance to showcase what you can do. I have taken this challenge on and I'm accepting the challenge and am going out there to compete because you never know where your next job might come from.
"It's a pretty stressful situation at times but that's why every time you play you have play like it's your last and go out and give it everything because you never know what doors might open for you."
Gatlin has enjoyed the past three years in the SEABL with the Supercats where he's improved season on season despite the team unable to quite win the championship, but he has been proud to have shown the loyalty to Geelong to return for three seasons.
Looking at the bigger picture, overcoming the injuries he has and the hurdles of trying to be a professional basketballer overseas make him proud that he's still able to play the game for a living.
"I couldn't imagine myself doing anything different and it just shows a lot about my character and how determined and focused I am," Gatlin said.
"Maybe after the second knee injury a lot of people might have thought that was it with basketball, but I just kept fighting and I'm blessed to say that I'm still playing basketball.
"After those first two years I was looking forward to getting back home but I feel like the older I get it becomes a little more stressful coming back home.
"It's good to be back to see people, but you feel like once you stay too long you're not being productive and you are taking a step backwards because you're not playing.
"At times it can be stressful coming home because when you're away you just focus on basketball, but at home you are focused on finding your next job. It can be stressful because you never know where your next job will come from."
After Gatlin completed his college career at Sam Houston State which included him putting up 10.6 points, 4.9 rebounds and 2.0 assists in 2014/15 as a senior, he wasn't sure where his basketball journey would take him.
Then when Geelong came up, he hoped playing well for the Supercats would lead to an NBL opportunity which looked a real possibility at the 2017 NBL Combine.
While there, he ran 3.11 seconds for the three-quarter court sprint bettering John Wall's effort in 2010 while his standing vertical leap of 92cm beat Vince Carter's 1998 performance and his 106cm vertical leap exceeded Zac LaVine's 2014 recording.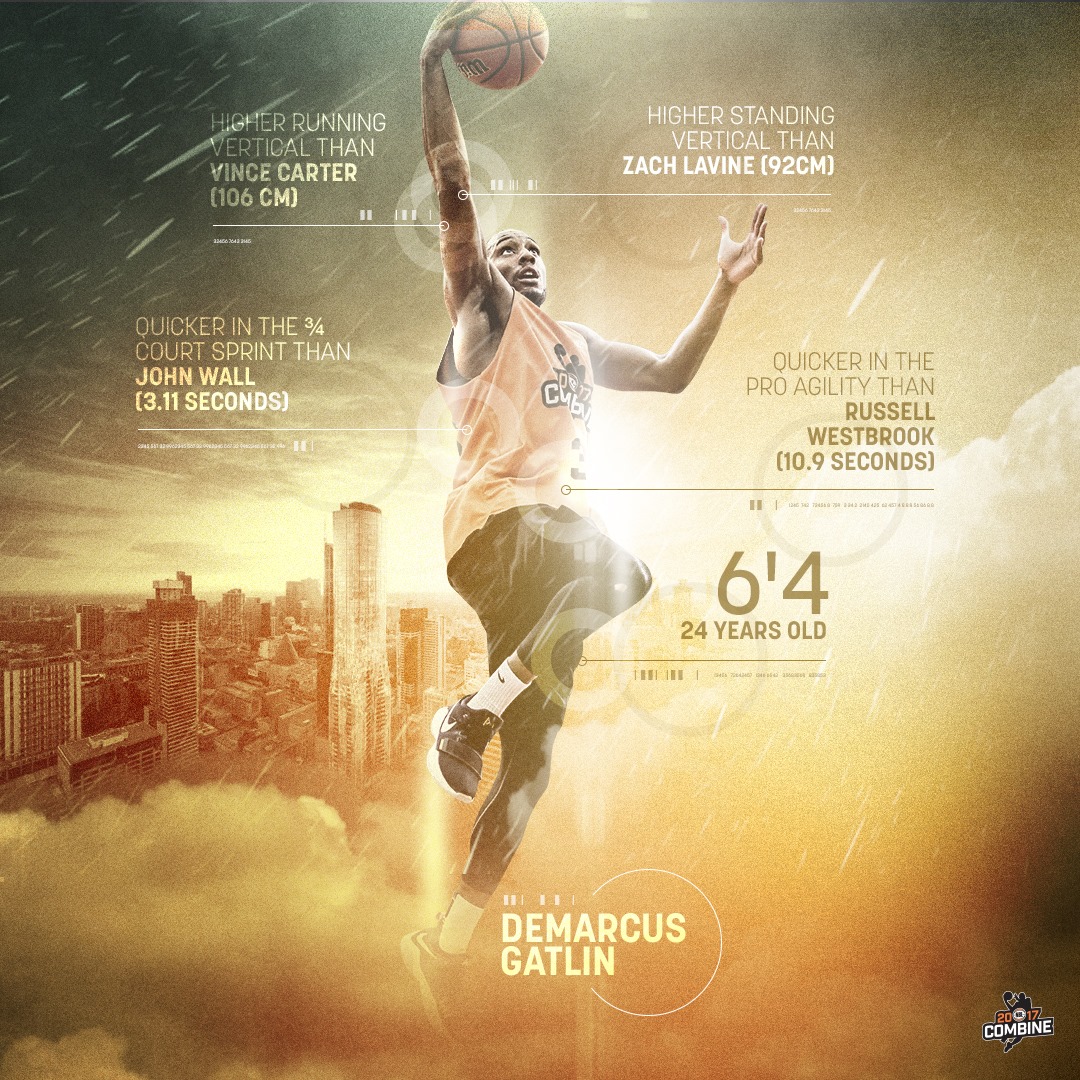 An NBL career hasn't quite eventuated, but Gatlin is just happy to continue his career wherever opportunities open up.
"To be honest when I first came out of college I had a very hard time finding a team so I was looking to Europe and then this opportunity came by," Gatlin said.
"There were a couple of offers in Europe but not good enough for me to take and then a combine happened in Indiana with some SEABL teams there. I just played as hard as I could and was fortunate enough to get an opportunity with Geelong and it all worked out well in the long run.
"Initially I did have a goal and ultimately when I first got to the SEABL I wanted to play there for two years, have two really good years and try to see if I could make an NBL team.
"But the NBL is so closely affiliated to the NBA now and the calibre of guys they are getting is so high and they are guys on the verge of making NBA teams.
"So at the end of the day, I've been through so much and I've had three major knee injuries and broke my foot just last year. I feel already like I'm against the odds and I'm still playing and I'm taking everything day to day."
Gatlin couldn't be happier with his experience in Geelong the past three years going at 17.3 points, 7.2 rebounds and 3.5 assists while shooting 47.9 per cent from the field across the 73 matches.
Apart from winning a championship, Gatlin wouldn't change a thing about the journey at the Supercats.
"Really Geelong is just a perfect city and I feel like it's not too small or too big so it gives you an opportunity to focus just on what you need to be there for," he said.
"I've also gained some great relationships and friendships with my teammates and I think that makes a big difference on my decision to return back the last three years. There are a lot of great people there and the fan base is great so it's perfect.
"It's been an amazing journey so far especially from the aspect of learning from some of the older guys on the team like Jamie Medved and Nathan Herbert who have both just retired. I've been able to learn from a leadership role and been able to grow as a person as well.
"Unfortunately we came up short of winning the championship this year and last year we had a couple of injuries that kind of stopped off achieving everything that we could have. But the journey has been great and I wouldn't trade it for anything."
Gatlin has also made sure he has thrown himself into the history of the Supercats who celebrated their 40th year anniversary in 2018 along with being part of the Geelong community.
"In my first year I was kind of tip-toing because I didn't want to step on any toes, but they have done a great job of embracing me which made it easier for me to embrace the culture," Gatlin said.
"It's really a family there and even when the guys come back who had played years and years ago, you can sit down and have a good conversation and they treat me like I've been with Geelong for 40 years.
"The club really does a great job of putting everything together, the fans do a great job of coming out and supporting and it's perfect."
Since Gatlin's season at the Supercats ended in a preliminary final loss to eventual champions the Hobart Chargers, he has returned home but is awaiting his next professional gig while being more than open to the prospect of coming back to Geelong, or elsewhere in Australia, in 2018.
"I've just been working out and it's important for me to always stay ready, you never know when a team might be interested in you," Gatlin said.
"Right now I'm in the process of trying to make the decision on whether I want to go play somewhere in Europe or there is an ABA team who is interested in me right now as well, they are out of LA. I'm just making sure I stay in shape and when the right opportunity comes, just be ready.
"There is a chance. I've had a talk with my coach before I left and it's just dependant on what the team needs. We've had a couple of guys retired and have some younger guys making a decision on whether they are going to return.
"So it depends on the makeup of the team and my coach is very honest with me and told me there's a 60 or 70 per cent chance they'd ask me back. But he did say not to the detriment of the team which is fair enough.
"I've always respected Geelong and they've done a great job of embracing me, but unfortunately we haven't won the championship. From a coaches' perspective, you have to put yourself in a position to win a championship and I respect that.
"Right now I'm trying to do everything I can to be proactive and shop myself around, and market myself just in case you never know what might happen. I have to look out for myself at the end of the day. Yes I am loyal to Geelong, but if another opportunity comes along I have to look at it from a business perspective and see what's best for me."