NBL 3×3 Pro Hustle Set for Geelong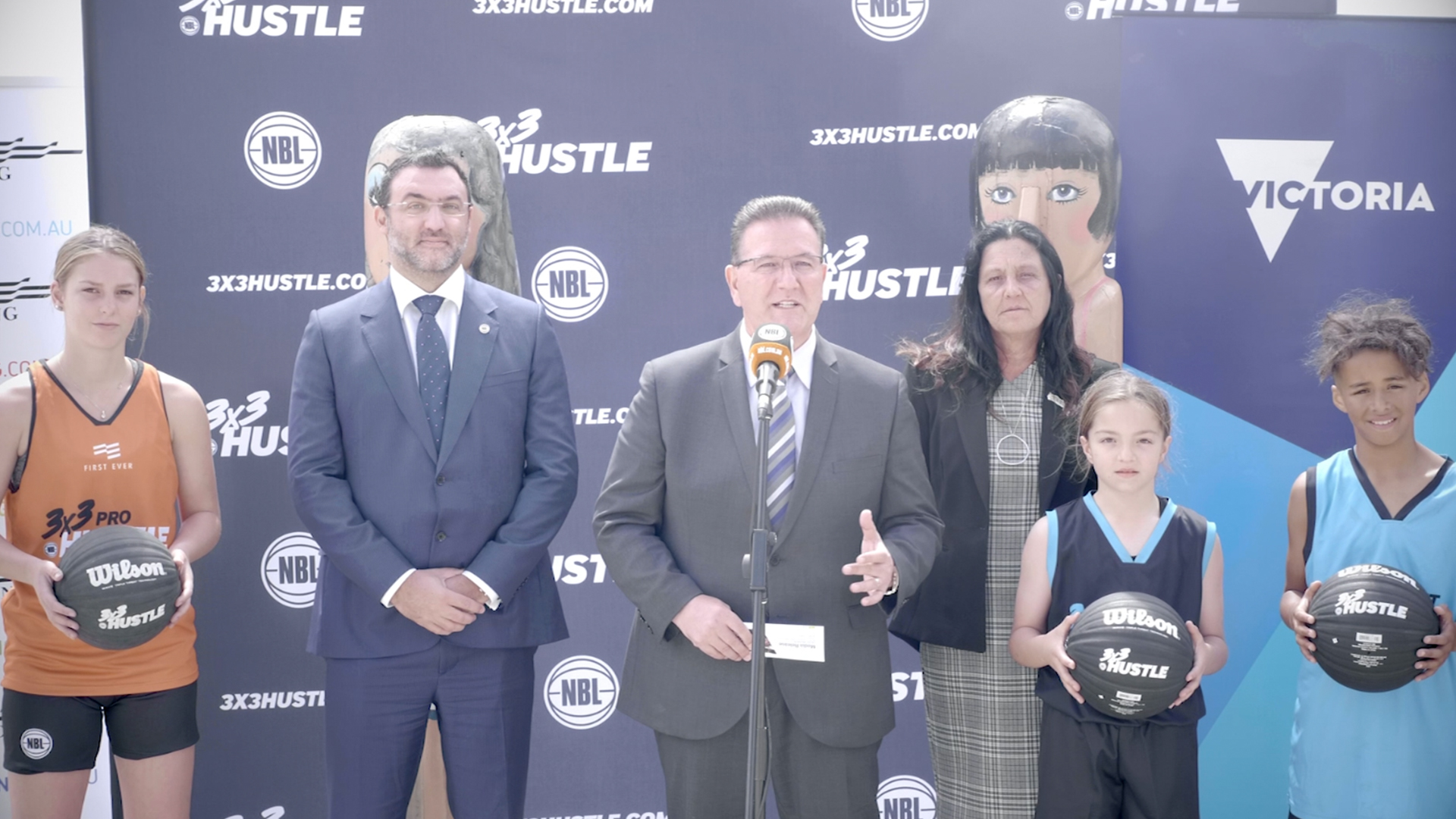 The Geelong waterfront is set to host an exciting new basketball tournament and festival as part of a bumper sports program recently launched by the Victorian Government.
Minister for Tourism and Major Events John Eren announced the National Basketball League's 3×3 Pro Hustle will make its debut in Geelong in April next year.
The NBL's 3×3 Pro Hustle Basketball event will feature professional games, dunk comps, skills challenges, Junior V's Pro shooting contests and clinics for local attendees.
The tournament will have a festival atmosphere with family friendly entertainment and food, featuring DJ sets, food trucks and live performances held throughout the event.
Participants in both men's and women's professional competition will be competing for prize pool of $100,000USD as well as qualification into the FIBA 3×3 World Pro Tour.
A 'Community Hustle' and hosted clinics would form part of the weekend to engage youth around the Geelong region.
Basketball is in the blood of Geelong and Surf Coast region with more than 8500 local players playing domestic basketball including more than 550 elite junior basketballers and 100 elite senior players.
The 3×3 Pro Hustle is just one of six sporting events to land in the Geelong region in the coming years thanks to the Regional Events Fund and the Significant Sporting Events Program.
The $20 million Regional Events Fund has helped support over 180 regional events to date including the Festival of Sails, T20 International Cricket Double Header, Geelong Revival Motoring Festival and Toast to the Coast.
The $17.7 million Significant Sporting Events Program is helping organisations across the state to deliver sporting events that are national or international in focus or have regional significance.
In the year ending March 2018, Geelong and the Bellarine welcomed 5.1 million visitors to region, representing an increase of 18.4 per cent from 2014. Visitor spending was estimated at $936 million in the same period- a jump of 26.2 per cent for the region from 2014.
Mr Eren said: "The 3×3 Pro Hustle Basketball is a fabulous addition to Geelong's sporting calendar and will draw even more visitors and increase tourism spending across the region.
 "With so many basketballers competing in local competitions across Geelong and the Surf Coast, it is wonderful to have a new event to bring competitors together.
"Our Government's $20 million Regional Events Fund and $17.7 million Significant Sporting Events Program are helping communities stage bigger and better sporting, which help get people active while boosting tourism for the regions."
NBL Chief Executive Jeremy Loeliger said:  "We are excited about the opportunity for Geelong to host the 3×3 Pro Hustle and thank the Victorian Government and Minister Eren for their support of his event.
"Basketball is booming in Australia with over one million people playing the sport, our national teams are winning medals all over the world, the NBL is attracting record attendances and broadcast audiences and the USA Men's Basketball team will play two games against the Boomers at Marvel Stadium in Melbourne.
"The 3×3 Pro Hustle is fast, energetic and exciting. 3×3 will make its debut as an Olympic sport at Tokyo in 2020 and basketball will also adopt the 3×3 format for the 2022 Commonwealth Games in Birmingham. FIBA 3×3 Ranking points from the Pros Hustle will go towards Australia's qualification for the Olympics as well as individual athletes."