Liman Retain Title At FIBA 3×3 World Tour Debrecen Masters 2020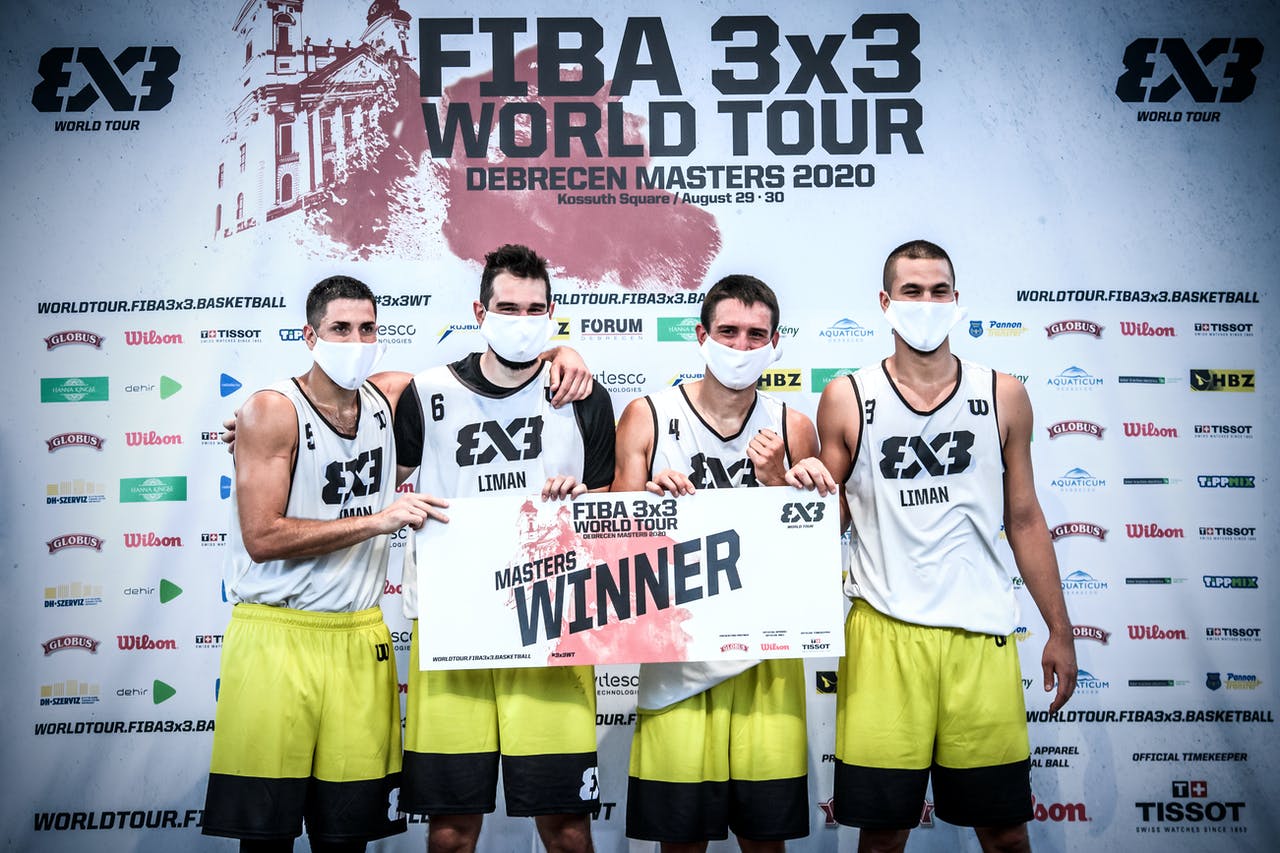 Liman (SRB) won the FIBA 3×3 World Tour Debrecen Masters for the second consecutive and third time ever (2017, 2019, 2020) on August 29-30, 2020.
The number one ranked 3×3 team in the world had a perfect 5-0 run in the second largest city in Hungary, which culminated with a 21-17 win in the final against Utena Uniclub (LTU). Stefan Stojacic and Aleksandar Ratkov both scored eight in a dramatic title game.
For his return to the World Tour after an injury-plagued 2019 season, the former number one player in the world Stojacic won MVP. The man known as 'Mister Robot' was a machine in Debrecen as he was the event's joint top scorer with 41 points in five games and topped all players in Player Value, which measures the overall statistical contribution of each player.
It was a special day for his teammate Stefan Kojic, who also became a father and will therefore never forget the day Liman won their sixth ever Masters.
Utena Uniclub was the story of the tournament, competing in their first-ever Masters and going all the way to the final as the #12 and last seed. The 27-year-old Ignas Vaitkus led the scoring charts in Debrecen, tied with Stojacic.
In the individual contests, Rafal 'Lipek' Lipinski (POL) won the VITESCO Dunk Contest while Amsterdam's Arvin Slagter dominated the Tissot shoot-out contest.
The FIBA 3×3 World Tour Debrecen Masters 2020 was the first FIBA official competition since FIBA suspended all its competitions due to the COVID-19 outbreak on March 13, 2020.
It was the first one of three Masters, which will take place in Debrecen for an amazing week of 3×3. The Hungary Masters will be held on September 1-2 and the Europe Masters will follow on September 4-5.
All the health and safety measures requested by local and national authorities and the Guidelines for the Return to Basketball, developed by the FIBA Medical Advisory Group (MAG) were implemented for the occasion.
FINAL STANDINGS
1. Liman (SRB)
2. Utena Uniclub (LTU)
3. Riga (LAT)
4. Novi Sad (SRB)
5. Amsterdam (NED)
6. NY Harlem (USA)
7. Graz (AUT)
8. Piran (SLO)
9. Sakiai (LTU)
10. Humpolec Bernard (CZE)
11. Tallinn (EST)
12. Debrecen (HUN)