Hustle Wrap: Stonnington Street Bounce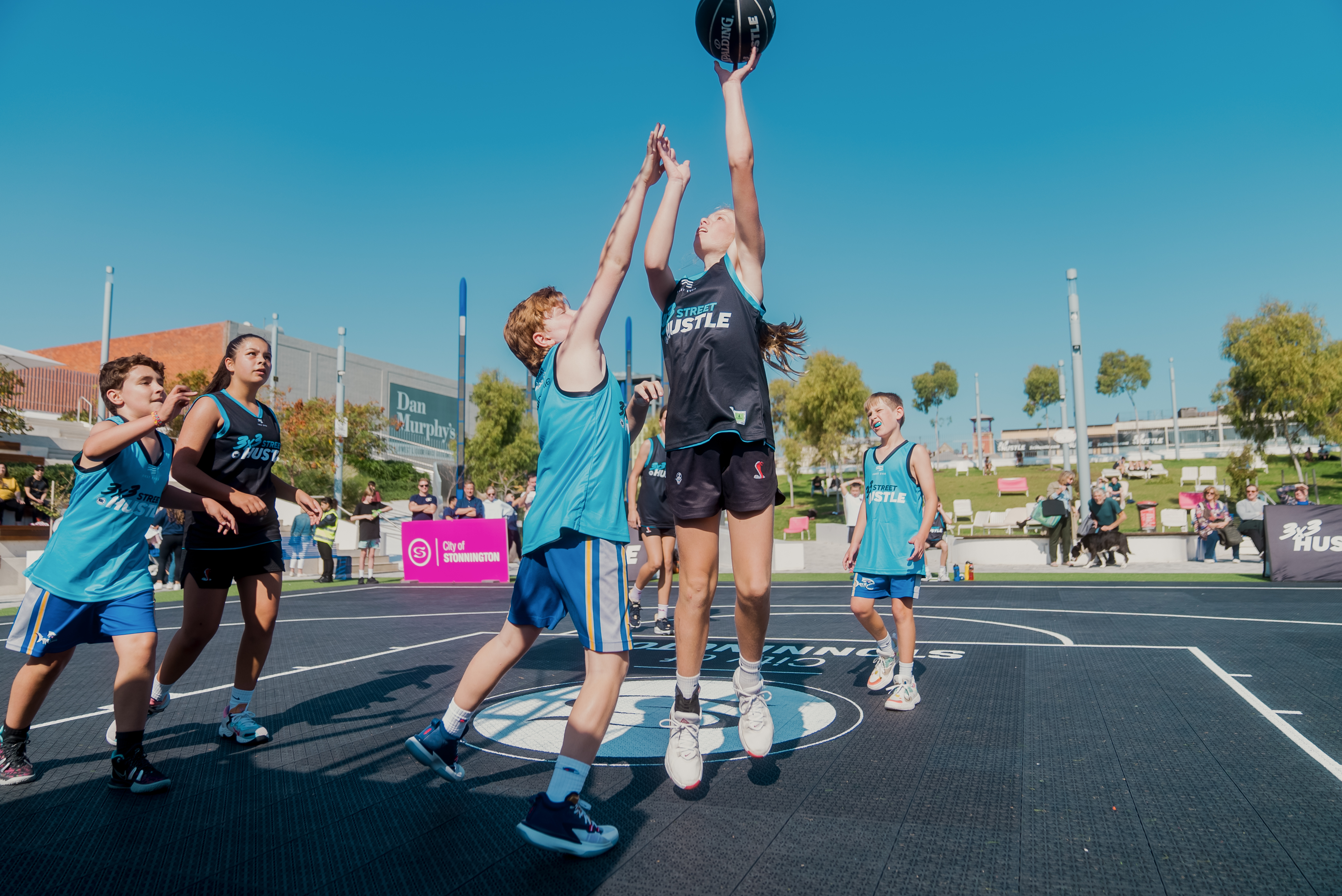 3x3Hustle teamed up with the City of Stonnington to deliver the inaugural Stonnington Street Bounce. The Street bounce was three weekends of basketball, competitions, live entertainment, pop-up food and drinks and prizes. The events were held at three iconic locations throughout the Stonnington council area, creating hype and sparking the interests of many junior players and spectators at each location.
The first weekend kicked off with the Prahran Square event on Saturday 23 April and Sunday 24 April. The sun was shining and the court was pumping over the weekend with 3×3 Street Hustle tournaments, live entertainment and shooting competitions. Thanks to Stonnington Council, winners took home Chapel Street Precinct gift vouchers and lots of Hustle merch. 
Prahran Square turned it up with a stellar live entertainment line-up with Australian singing sensations Isaiah Firebrace and Bonnie Anderson performing on the court. Respected local Melbourne artist DJ Smilez was also there bringing the vibes all weekend with his signature blend of Latin Rhythms, Baile Funk and Afrobeats.
The action didn't stop there, with Stonnington Street Bounce taking over Artists Lane in Windsor the following Sunday 1 May. Competitions were on offer with more great prizes to win and fun performances by Patrick School of Arts and Superhoodz.
NBL's South East Melbourne Phoenix star Adam Gibson came down to join in on the fun at Artists Lane, hosting free basketball clinics for participants to hone in on their dribbling, passing, shooting and defending skills. 
The last weekend of the Stonnington Street Bounce on Saturday 7 May, saw Mercer Road in Armadale transform into a 3×3 court to host a day of free play basketball and shooting competitions for all ages and abilities. With over $2,500 in prizes and High Street Precinct gift vouchers handed out it was a memorable day for many young winners! 
The inaugural Stonnington Street Bounce proved to be a great success, with 3 weekends of 3×3 basketball and entertainment, raising awareness of 3×3 basketball and showcasing some of Stonnington's amazing hidden locations through re-imagining how public places, streets and precincts are used.