Driving The Culture of 3×3 Basketball in Australia – David Biwer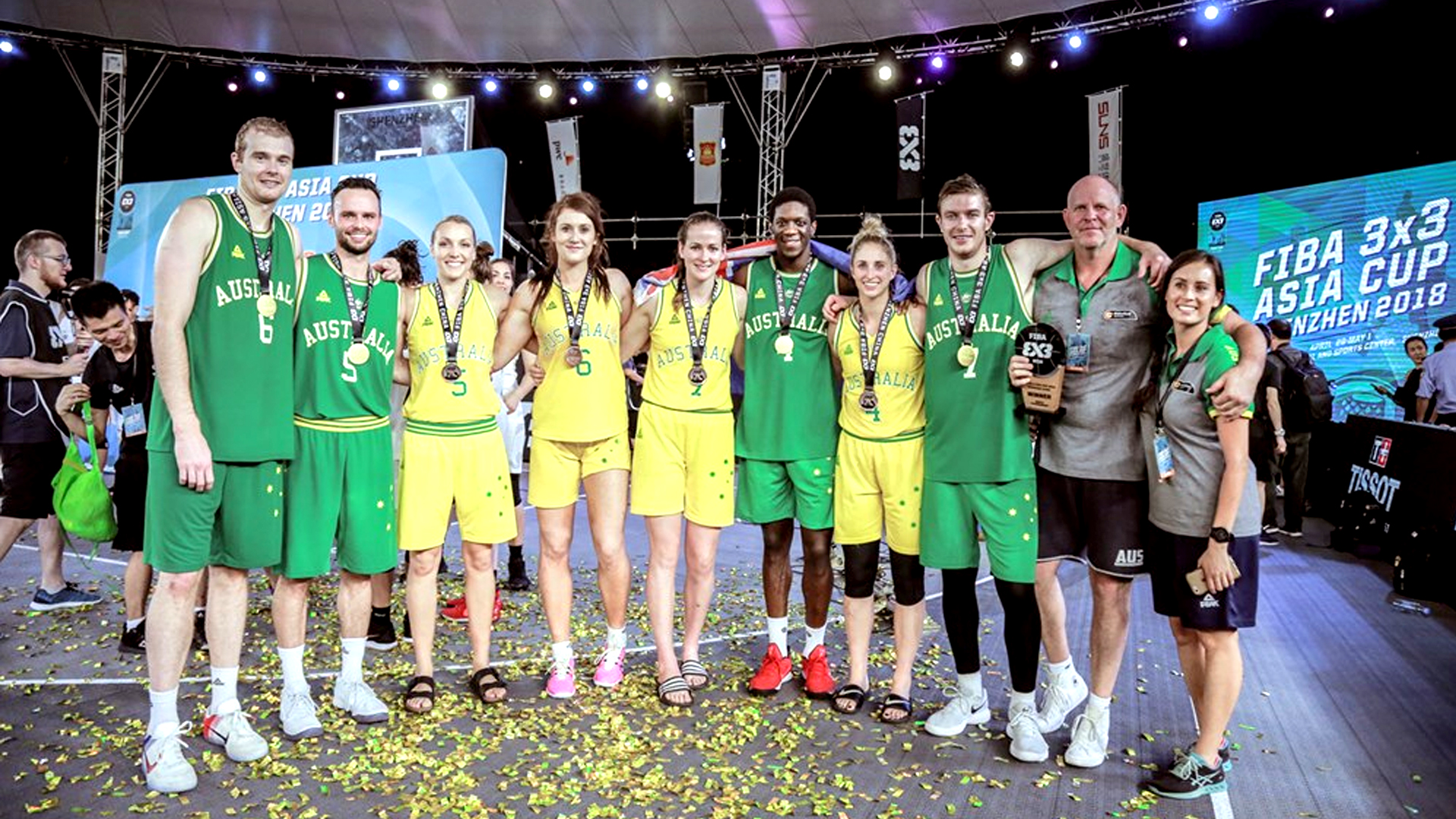 Throughout his almost 30 years in Australia, Dave Biwer has dedicated himself to the growth and development of basketball and he couldn't be more excited to be at the forefront of the 3×3 game in his adopted home.
Biwer first arrived in Australia in 1990 to play at Shoalhaven on the NSW Central Coast and would go on to have a storied SEABL career along with time in the NBL as a 36-year-old rookie, but never could have he imagined he would still be here nearly 30 years on and ushering in a new era with the sport.
While remaining heavily involved in the traditional game of basketball as coach of the Nunawading Spectres in the SEABL and reaching the Grand Final this season just gone, Biwer has thrown himself heavily into being at the forefront of introducing the 3×3 game to Australia.
It is already taking off too with events over the winter including 3x3Hustle hosting the first ever Pro Hustle tournaments which were great hits. Biwer also coached the Australian teams at the recent Asian Cup which saw the men's team win gold, led by Tom Garlepp, and the women claim bronze.
With the announcements that 3×3 events will be held at both the upcoming 2020 Olympic Games in Tokyo and then the 2022 Commonwealth Games in Birmingham, it's a part of basketball that is only set to grow and Biwer is keen to help that become as successful as possible.
He is now the Basketball Australia 3×3 Pathways Manager and more than anything, for the new format of the game to open up more opportunities for basketball players to play the sport at a high level, and potentially make a career out of, is what has him most excited to be involved.
"It's great to see them jumping on board. If you look at 3×3 structure it's been around in Europe for a while and that's why you see those countries playing the game so well," Biwer said.
"With the announcement that the 3×3 format is going to be in Olympics, Basketball Australia has really jumped on board and we're going to give it a red hot go at getting a team into the Olympics."
Biwer is excited about the potential in the 3×3 game in Australia and that's why he is so delighted to be at the forefront of seeing it grow and develop.
While it has been likened to a Twenty20 version of basketball like has taken off in cricket, he also likens it to beach volleyball with the 3×3 game taking the best aspects of basketball but condensing it into a shorter and more exciting product which never has a second you can take your eyes off.
"With a quick view, it's basically a quicker version of the game with three players on each team at a time. It's basically one quarter of basketball that's 10 minutes long or the first team to 21," he said.
"The shot clock is quicker, the physicality is much more apparent when you watch it and there's a ball change and all of that sort of stuff.
"There are some differences but much like beach volleyball compared with traditional volleyball, you can still see the form of the original 5×5 game in there, but to the new viewer you can also see it's a different form of the game. It's pretty exciting and it's kind of like overtime in 5×5 in every single game."
The great benefit of the growth in 3×3 in Australia is the increased opportunities it is going to provide to players to play basketball at a high level, and hopefully make a career out of it as well.
That's where Biwer wants to make sure his eyes are open to talent of all types and from anywhere in the country as it's certainly still a work in progress in working out who is best suited to the 3×3 game.
"We are holding two to three camps coming up to really try to fine tune the type of player which is traditionally the two man through to the four man that have been successful in the 3×3 game, with a bit more strength in their body structure," Biwer said.
"Players from anywhere are on a level playing field and the only reason Melbourne is a little different is because there are more of us here, but it really is an open slather for the players we are looking at.
"There have been guys playing for a max of a year at this and everyone is kind of starting from the same place even though there might be a slight advantage for guys like Andrew Steel and Tom Wright who have played for a little.
"But this is a game that can be quickly up taken by any basketball player because a lot of the skills are similar, they just have to be a little more pronounced in certain areas."
Biwer originally arrived in Australia in 1990 for a dominant and undefeated season at Shoalhaven playing alongside Damon Lowery.
That was Biwer's first year overseas after a strong college career at Central Washington University, and he liked that experience so much that once he returned in 1992, it was a move for good this time.
After spending dearly a decade in Tasmania and being a key part of the Hobart Chargers' success at the turn of the century, his continued strong SEABL form led to a two-year stint at the Victoria Giants where he even was second in Rookie of the Year voting as a 36-year-old for the 2002/03 season.
That led to Biwer joining the Nunawading Spectres firstly as a player and now he remains coach there enjoying a good run including the Grand Final appearance this year, before losing to the Hobart Chargers.
When Biwer arrived in Australia the first time, it was during the basketball boom and he can feel something similar building now and given his connection both to basketball in South East Melbourne and Tasmania, he's excited what the future for the NBL as well as the 3×3 game.
"We are all starting to feel that late 1980s and early 90s sense of basketball hoopla again. I arrived in Australia in 1990 and there was big fanfare going on about the game," he said.
"Right now with Larry Kestelman and his NBL, there's definitely a push of excitement for the game of basketball. For all of us who have been involved, we've always had the participation rates up, but the fan base is now starting to rise as well.
"You can feel it here in Melbourne the excitement of a team coming in again here from South East Melbourne and even the prospect of teams like the Southern Huskies coming in.
"For most of us basketball lovers, we just want more teams and we are all supportive of anyone willing to put more energy and effort into growing the game."
This year's Grand Final in the SEABL was certainly one of mixed emotions for Biwer too. But in the end, he was proud of his Nunawading team to reach the Grand Final and while it's never fun to lose, if he had to lose to any team he was at least happy to do so against the Chargers.
While certainly entrenched now at Nunawading and in basketball in Melbourne, Biwer will never forget his time in Tasmania at Launceston, North West Tasmania and then the Chargers.
"That was a lot of history there with me in that Grand Final and obviously going into the game we wanted to get the W but in the worst-case scenario at least it was Hobart winning," Biwer said.
"That was great for the city and their push to get a team into the NBL. In the end, it wasn't a horrible result either way for me and it was great for Hobart to win and it was great for us to have even made it that far to a Grand Final."