3×3 Pro Hustle brewing up return of events with Atomic brewery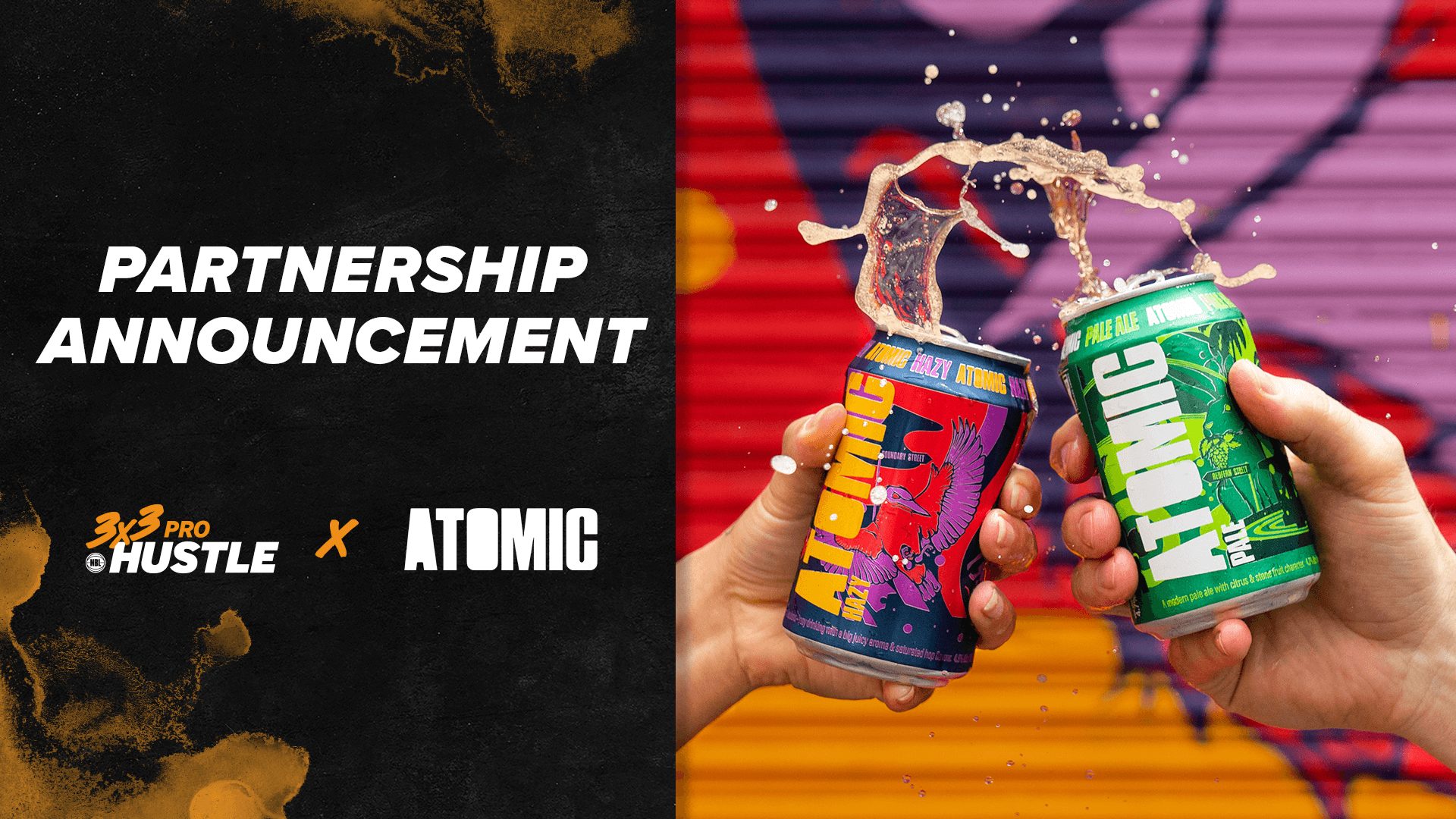 3x3Hustle is delighted to announce that Atomic will be coming on board in 2022 as the Official Beer Partner of 3×3 Pro Hustle.
Atomic is proudly Australian owned and independent, producing a range of craft beers from its Redfern home.
As part of the partnership, the local brewery will be serving drinks at 3×3 Pro Hustle events, commencing in early 2022.
These drinks include Atomic Pale Ale, Atomic XPA, Atomic IPA and Atomic Hazy. The range will be supported by Gage Roads Brew Co and Matso's.
The fun doesn't stop there though, with the brewery committing to regular event giveaways and lively activations.
Head of NBL 3x3Hustle, Jaele Patrick appreciated Atomic's support of 3×3 basketball in Australia.
"We're really excited to welcome Atomic to the 3x3Hustle family," Patrick said.
"Atomic will create an exciting presence at our 3×3 Pro Hustle events, which will only enhance the spectacle for both players and spectators.
"After a long lay-off from 3×3 Pro Hustle events, we're thrilled to have our best players back on the court in early 2022 as they ramp up preparations for the Birmingham Commonwealth Games."
National Stadiums Manager for Atomic Daniel Moraday said he was looking forward to getting behind the next generation of 3×3 Pro Hustlers.
"We're proud to announce our official partnership with 3×3 Pro Hustle and welcome Atomic as the 3x3Hustle beer of choice," Moraday said.
"Atomic will be activating event day spaces and serving up our range of fresh beers at each game.
"Atomic and 3×3 Pro Hustle are a perfect match, with our freshly brewed range of beers including Atomic Pale Ale, Atomic XPA, Atomic IPA and our newly launched Atomic Hazy sure to keep fans refreshed and happy from tip off to the final buzzer.
"3×3 is such a dynamic, fun and fast paced format, and we can't wait for the Pro Hustle season to get underway."
3×3 Pro Hustle will return in early 2022 with the likes of international stars Maddie Garrick, Rebeca Cole, Greg Hire and Tim Coenraad set to feature.
Stay tuned to 3x3hustle.com and the 3x3Hustle socials for more updates.