Riga win FIBA 3×3 World Tour Doha Masters 2020 in unbelievable fashion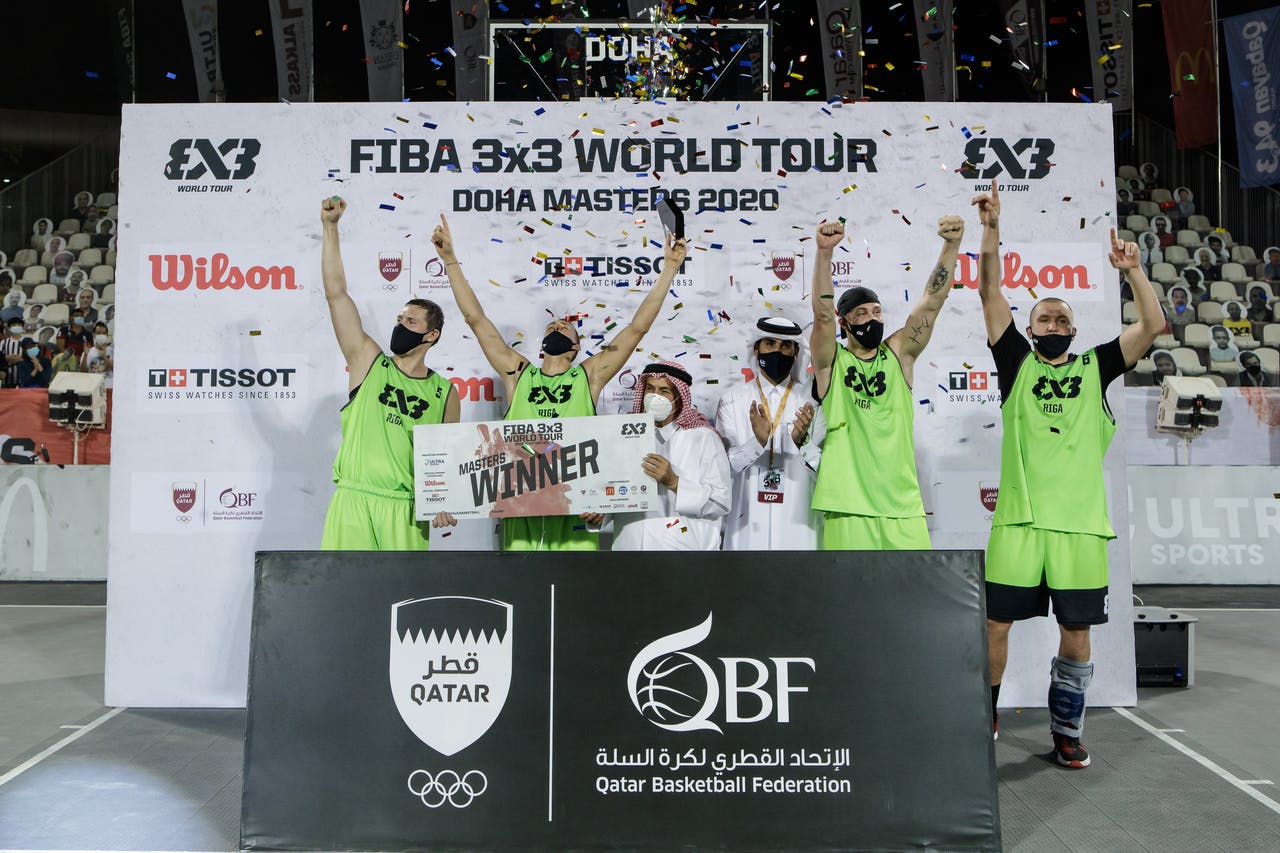 Riga completed an unbelievable come-back win to beat Liman (SRB) in the final and defend their FIBA 3×3 World Tour Doha Masters title on November 21, 2020.
Down 20-15, the number three team in the world Riga (LAT) relentlessly bridged the gap until Karlis Lasmanis hit an impossible Tissot Buzzer Beater off the dribble from way behind the arc to earn his team a 21-20 win.
The 26-year-old lefty stepped up in the final with a game-high 11 points. It was a team effort for Riga all weekend though as sharpshooter Edgars Krumins topped all scorers (34 points in five games) and the speedy Nauris Miezis received the MVP trophy – from Qatar Olympic Committee first vice president and FIBA Asia president H.E. Sheikh Saud Bin Ali Al Thani and Qatar Basketball Federation president Ahmed Abdulrahman al-Muftah – after leading his team in key assists, rebounds and player value.
Riga went 5-0 in the state-of-the-art Al Gharafa Sports Complex and Liman confirmed their domination on 3×3 in Doha. The two teams have combined to win all four FIBA 3×3 World Tour Masters this season.
They will meet again at the FIBA 3×3 World Tour Final, which will be held in Jeddah, Saudi Arabia on December 18-19, 2020. In total, twelve teams will compete in the final: Riga (LAT), Liman (SRB), NY Harlem (USA), Novi Sad (SRB), Utena Uniclub (LTU), Jeddah (KSA), Lausanne Katapult (SUI), Piran (SLO), Sakiai Gulbele (LTU), Ub (SRB), Amsterdam (NED) and Ulaanbaatar MMC Energy (MGL), who become the first-ever Mongolian team to ever reach the FIBA 3×3 World Tour Final.
In the individual contests, Chris Staples (USA) won the McDonald's Dunk Contest while former FIBA Basketball World Cup participant Kostas Vasileiadis (from Greece, playing for Lusail, QAT) dominated the Tissot shoot-out contest.
All the health and safety measures requested by local and national authorities and the Guidelines for the Return to Basketball, developed by the FIBA Medical Advisory Group (MAG), which were successfully introduced for the FIBA 3×3 World Tour return in Debrecen, were implemented once again.
DOHA MASTERS STANDINGS
1. Riga (LAT)
2. Liman (SRB)
3. Utena Uniclub (LTU)
4. Jeddah (KSA)
5. Princeton (USA)
6. Lausanne Katapult (SUI)
7. Bielefeld LFDY (GER)
8. Lusail (QAT)
9. Yoyogi Crayon.EXE (JPN)
10. Ub (SRB)
11. Manila Chooks TM (PHI)
12. NY Harlem (USA)
13. Riyadh (KSA)
14. Kamakura NatureMade (JPN)