Pro Hustle Tour Could Help Kendle Achieve USA Dream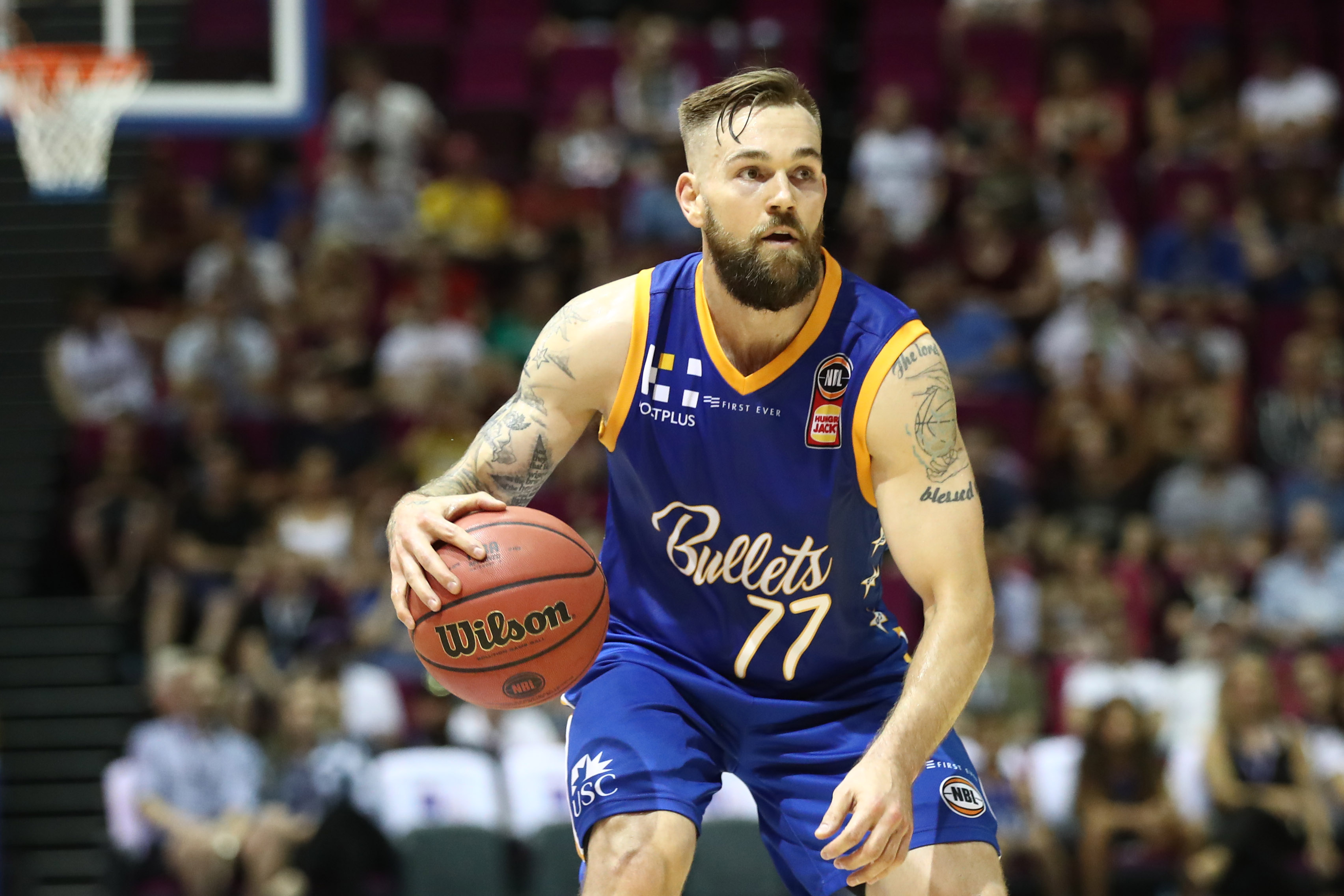 Jeremy Kendle feels so at home in Brisbane that he wants to help enrich the lives of as many people as he can through basketball, but by no means has he forgotten his own career and the next step in that is taking part in the NBL 3×3 Pro Hustle Tour.
Kendle, along with wife Nadia, has decided to settle in Brisbane, resisting offers to play in the NZ NBL or anywhere else this NBL off-season as he looks to get his Jeremy Kendle Basketball business up and running.
His goal through that is to use basketball as a tool to help those involved achieve their dreams whether through basketball or outside, and he will be using his rich basketball skill set to develop their games, but also provide some guidance outside it.
It's an admirable thing that Kendle is doing and a lot of it is based on the fact that he is so grateful to the opportunities provided to him in Australia both in NBL stints at the Sydney Kings and Brisbane Bullets, and the QBL with the South West Metro Pirates and Toowoomba Mountaineers, and SEABL with Bendigo Braves.
While Kendle isn't sure of his NBL future – he is hopeful of continuing to play professionally coming off his season at the Bullets – his immediate basketball future will see him play in the upcoming 3×3 Pro Hustle Tour.
The dynamic guard played in two of the 3×3 Pro Hustle events last year with 'The Platypuses' team featuring Peter Crawford and Anthony Petrie. They won both tournaments and that whet his appetite for further 3×3 participation.
He will be playing alongside Crawford, Harry Froling and Lucas Walker at the upcoming Pro Hustle events. While that looks an impressive team, Kendle is looking forward to seeing how they come together.
"On paper, we look pretty strong but Lucas and Harry haven't really played any 3×3 so it does take a bit of adjustment," Kendle said.
"I found that out for myself in the first couple of games at the first tournament last year in Melbourne. We won them but me and Peach really didn't play great and PC put us on his shoulders and drug us along.
"After a few games we got the hang of it and we started to understand where our advantages were, where you needed to move to and how you needed to move. Those guys will get it, I have no doubt about that and it should be fun."
Kendle is only 31 and far from ready to call time on his professional 5×5 basketball career, but playing alongside 39-year-old Crawford shows that 3×3 can provide him with a career at a high level for a long time to come.
"He's a machine, what can I say. The dude takes care of his body, he's a student of the game and I'm glad he's on my team. I'm just glad I'm not playing against him that's for sure," he said.
"He's an inspiration for a lot of guys, young and old. He's showing that age is nothing but a number and that if you are committed to your craft, you can have longevity especially with what we know about diet, nutrition and sports exercise now.
"I also had another teammate in Toowoomba, Erron Maxey, who is up there in age but he was still balling. Those are the guys who I have been privileged to be around and learn from, and see how they take care of their body. They are definitely inspirations for a lot of people."
Another thing now drawing Kendle to throw himself into the 3×3 game is the realistic possibility that he could be in the mix to play for the United States at the 2020 Tokyo Olympic Games.
He has only played two official tournaments in his life and is already ranked 30th in the USA, and playing for his country is something that would mean the world to him.
"Any time an athlete gets to represent their country, that's something truly awesome. Now that 3×3 is at the Olympics in 2020 that would be amazing," Kendle said.
"The top 50 ranked players in the United States might be able to get to be involved in some sort of tryout before the Olympics which would be an amazing opportunity.
"Right now I'm ranked 30th and I don't know exactly how the rankings work, but if I can play in these Hustle events and make some noise, and get some wins and hopefully if my ranking goes up maybe I can do that.
"That's something I'll look into no doubt because representing your country would be an amazing feeling."
Looking back 12 months, even though Kendle had grown up playing plenty of 3×3 basketball back in Jeffersonville, Indiana, he wasn't sure what to expect from the 3×3 Pro Hustle Tour when he signed up.
But he immediately fell in love with it, and that's why he's so keen to be back involved in 2019.
"Growing up we actually played a lot of 3×3 in my younger days, it was kind of part of the basketball culture when I was growing up," he said.
"There were a lot of 3×3 outdoor tournaments in the summer at the park so it is ingrained in me. I love 3×3 basketball and with my physicality and being a bit bigger and stronger for my position, that certainly helps me with 3×3.
"The experience last year was awesome and I think anybody who plays in them will see that it's a bit of a different brand of basketball, but it's very exciting.
"It's very quick paced, they are only 10-minute games and they are very physical. It's challenging and with the atmosphere and environment we get to play in with a courtside DJ and people really close to you in the stands, it's very intimate.
"Overall it's just an awesome setting and experience to be a part of. Not to mention, for me personally I just love playing the game basketball whether it's 5×5, 3×3 or 1×1. It's always very enjoyable."
As for the bigger picture, Kendle isn't sure what his future holds in terms of the NBL but he certainly hopes he has one. What he does know is that he wants to help the next generation as much as he can, and that's why he's so proud of what he's trying to build through Jeremy Kendle Basketball.
"Ultimately I love the game of basketball and I'm going to be involved with it for a long, long time to come. We just launched my skill and development training business, Jeremy Kendle Basketball, and we have decided to not pursue contracts outside of Brisbane so that narrows it down," he said.
"I'll be playing in the QBL this off-season if that's what happens, but ultimately the goal is to give back to the community, really start investing in the next generation and be playing in the NBL as long as I can until the wheels start to fall off.
"I really just want to help build basketball here in the Brisbane area, throughout Queensland and all of Australia really. That's the ultimate goal and we think Brisbane is a great place for my wife and I off the court and on the court.
"We have a great supporting cast from our Hillsong Church family and we have great people around us. We're here to stay."
It's not just in basketball that Kendle wants to help people. Basketball is the tool and the means to do it, but ultimately it's about the bigger picture. For anyone that Kendle works with, he will do everything he can to achieve a life balance which sets them up to be healthy and successful.
"I basically want to use the game of basketball as a tool and platform to teach, inspire, motivate and encourage players of all skill levels and ages," Kendle said.
"I work from players at the grassroots up to elite professionals so Jeremy Kendle Basketball is really about using the game to develop basketball players but more importantly people. The aim is to help them develop life skills as well that they can use after their basketball careers.
"Like it or not and PC might not like to admit it, but there comes a time when all of us can no longer play. Hopefully I can equip the next generation with life skills that they can take with them after basketball to lead successful lives."
You can catch Kendle at the 3×3 Pro Hustle Tour starting this Sunday March 31 at the Melbourne Showgrounds! To get your tickets, head to 3x3hustle.com/prohustle.