Lights out: 3×3 Pro Hustle races into Formula 1® Grand Prix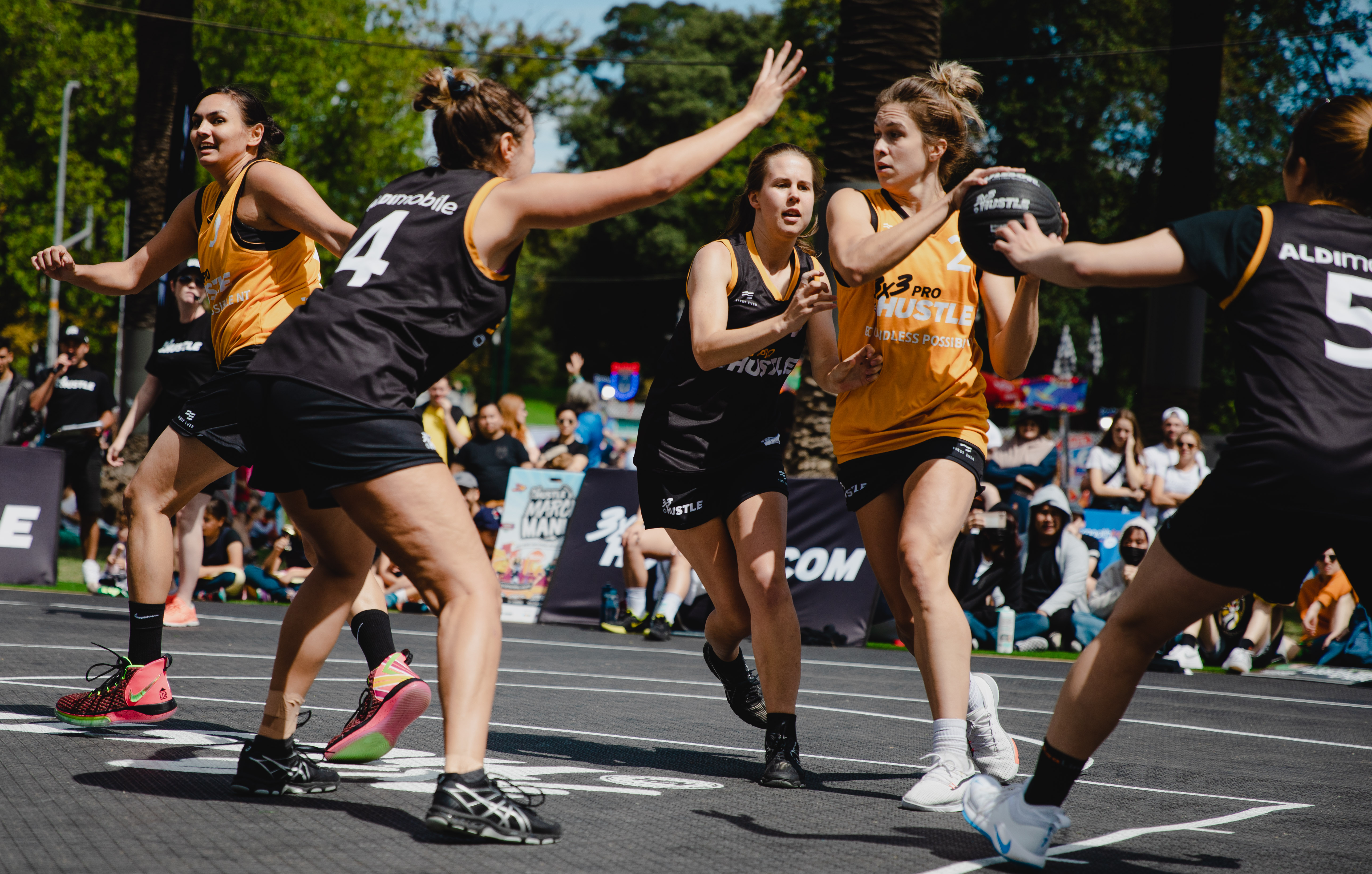 3×3 Pro Hustle will make its highly anticipated return to the basketball calendar via one of Australia's premier sporting events, the Formula 1® Heineken® Australian Grand Prix 2022.
The event, spread across Thursday April 7 to Sunday April 10, will play host to not only star Australian 3×3 representatives, but also the internationally-acclaimed Harlem Globetrotters and the next generation of 3×3 stars.
On Thursday, that next generation will have the opportunity to have a go at the sport in the family Phillip Island precinct of Lakeside Stadium, where there will be music, sunshine and all-round great vibes.
The public will be able to join in on the fun with free play, games and shooting competitions, with plenty of prizes to be won.
The fun continues on Friday, where players of all ages will have the opportunity to play in the Formula 1® Australian Grand Prix 3×3 Street Hustle.
Thursday and Friday will also see the Harlem Globetrotters mark their long-awaited return to Australia, with their scintillating skills set to put on a spectacular show in a family-friendly environment.
Players in the Friday Street Hustle will also have the chance to personally meet and shoot around with the Globetrotters.
On Saturday, the 3×3 Pro Hustlers take centre stage, with Australian 3×3 representatives Maddie Garrick and Rebecca Cole set to headline a blockbuster line-up of players.
After playing a day of qualifiers, Sunday will determine who wins the inaugural 3×3 Pro Hustle Grand Prix.
Head of NBL 3x3Hustle Jaele Patrick said she was delighted to have 3×3 Pro Hustle back in a big way.
"It's been a long two years and we know basketball players and fans have been itching to get back to the 3×3 Pro Hustle circuit," Patrick said.
"There's no better track than the iconic Albert Park circuit and we are so thankful to the Formula 1 Australian Grand Prix Corporation for allowing us to partner with them in hosting this magnificent event.
"We also thank the Harlem Globetrotters for stopping by on Thursday April 7 and Friday April 8 to entertain our younger generation and wonderful families, who will undoubtedly enjoy the fun format of our Community Days and 3×3 Street Hustle.
"We're excited to see international-level players hit the courts at Lakeside Stadium in their bid to get ready for the 2022 Birmingham Commonwealth Games and wish them the best of success in doing so on Saturday April 9 and Sunday April 10."
Australian Grand Prix Corporation General Manager for Marketing and Experience, Arthur Gillion, said he was thrilled to partner with the NBL to help bring Lakeside Stadium to life. 
"The 3×3 Pro Hustle is one of the standout off-track attractions at the Formula 1 Heineken Australian Grand Prix 2022, and we can't wait to see the skills of the Pro Hustlers, along with the superstar members of the Harlem Globetrotters," Arthur said.
Players interested in suiting up for the 3×3 Pro Hustle Grand Prix or the 3×3 Junior Street Hustle should head to 3x3hustle.com/events to register ASAP, as spots are limited and highly sought after.
Registration for all players also includes a Park Pass (General Admission), meaning they can head to the track in between playing to catch some of the Formula 1® action.
Teams will also receive one additional Park Pass for a Team Leader/Coach.