HUSTLE-LA-VISTA: Arnold Joins the 3x3Hustle Team at The 2019 Arnold Sports Festival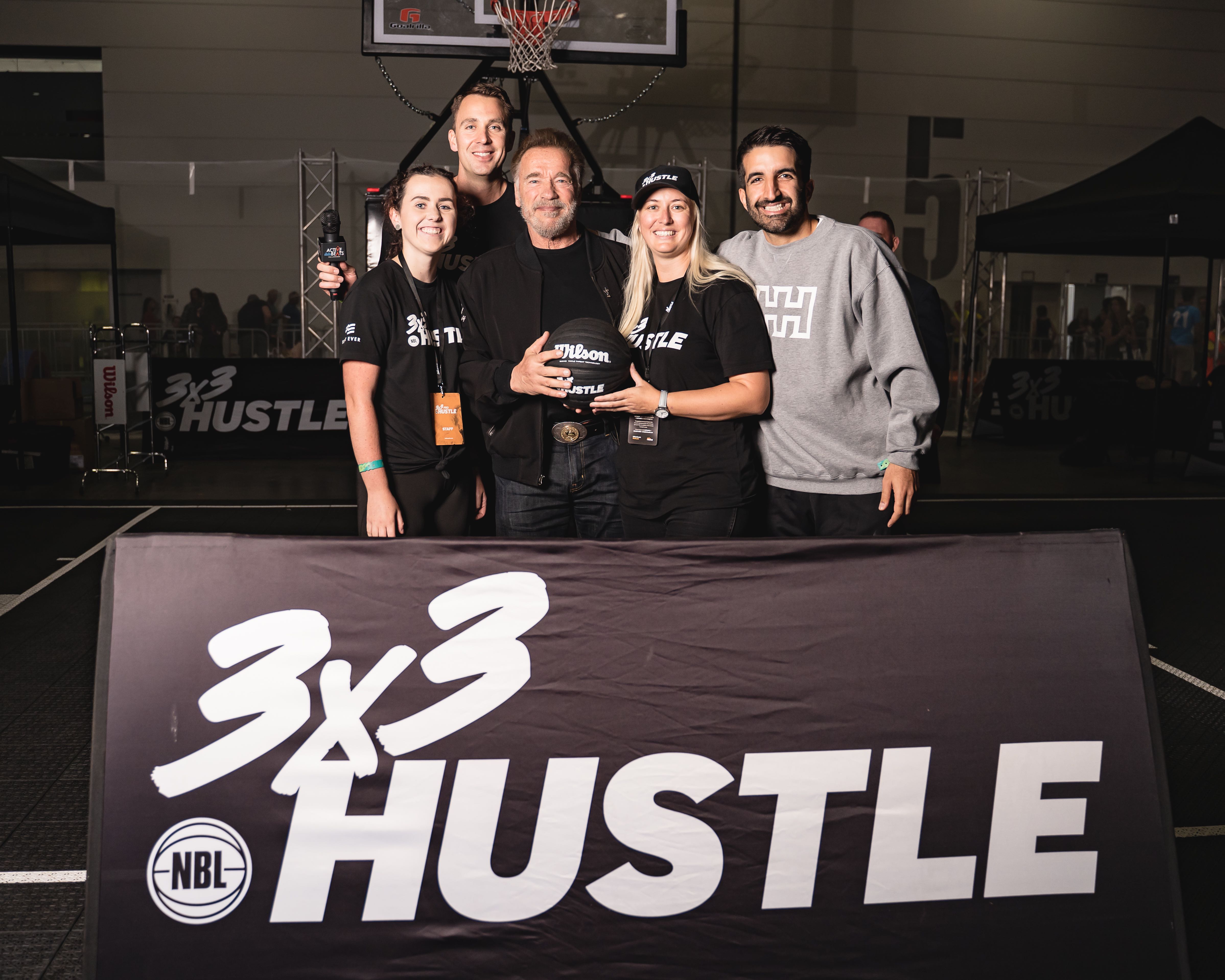 In amongst the sea of supplement samples and bronzed bodybuilders, the 3x3Hustle blacktop stood out like an oasis for hoops fans at the 2019 Arnold Sports Festival. After a successful outing at Moomba Festival, the Hustle crew again teamed up with charity partner Helping Hoops to deliver another weekend of 3×3 basketball to the masses.
Basketball fans and neutrals alike flocked to the 3x3Hustle courts – with pick-up games and Helping Hoops skills challenges being the most popular activities for both kids and adults.
Two of Australia's best 3×3 players – Maddie Garrick and Andrew Steel – stopped by on Saturday, showing their skills during a quick shootaround as they gear up for the 3×3 Pro Hustle Tour, which gets underway at the Melbourne Showgrounds on March 31, followed by stops at the Geelong Waterfront (April 12-14) and the Darwin Convention Centre (April 27-28).
Steel and Garrick, who won Gold and Bronze respectively at the 2018 FIBA 3×3 Asia Cup, will look to cement their places in the Australian line-up, with strong showings in the 3×3 Pro Hustle Tour playing a key part in selection.
But, of course, it was the appearance of the great man himself – Arnold Schwarzenegger – on Sunday at the 3x3Hustle courts that brought the crowd to their feet. Arnold shook hands and took photos, and even tried his hand at shooting free-throws with the 3x3Hustle team!
View this post on Instagram
Schwarzenegger, 71, has done it all in his career, with the Austrian-American actors list of achievements putting most to shame. A filmmaker, businessman, politician, and former professional bodybuilder and powerlifter, Schwarzenegger returned to Australia's shores for the fifth anniversary of the UPS Arnold Sports Festival Australia in 2019.
Be sure to check out more 3×3 action at the upcoming 3×3 Pro Hustle Tour, for tickets and more information head over to www.3x3hustle.com/prohustle