Hawk Coenraad Excited For What 3×3 Has to Offer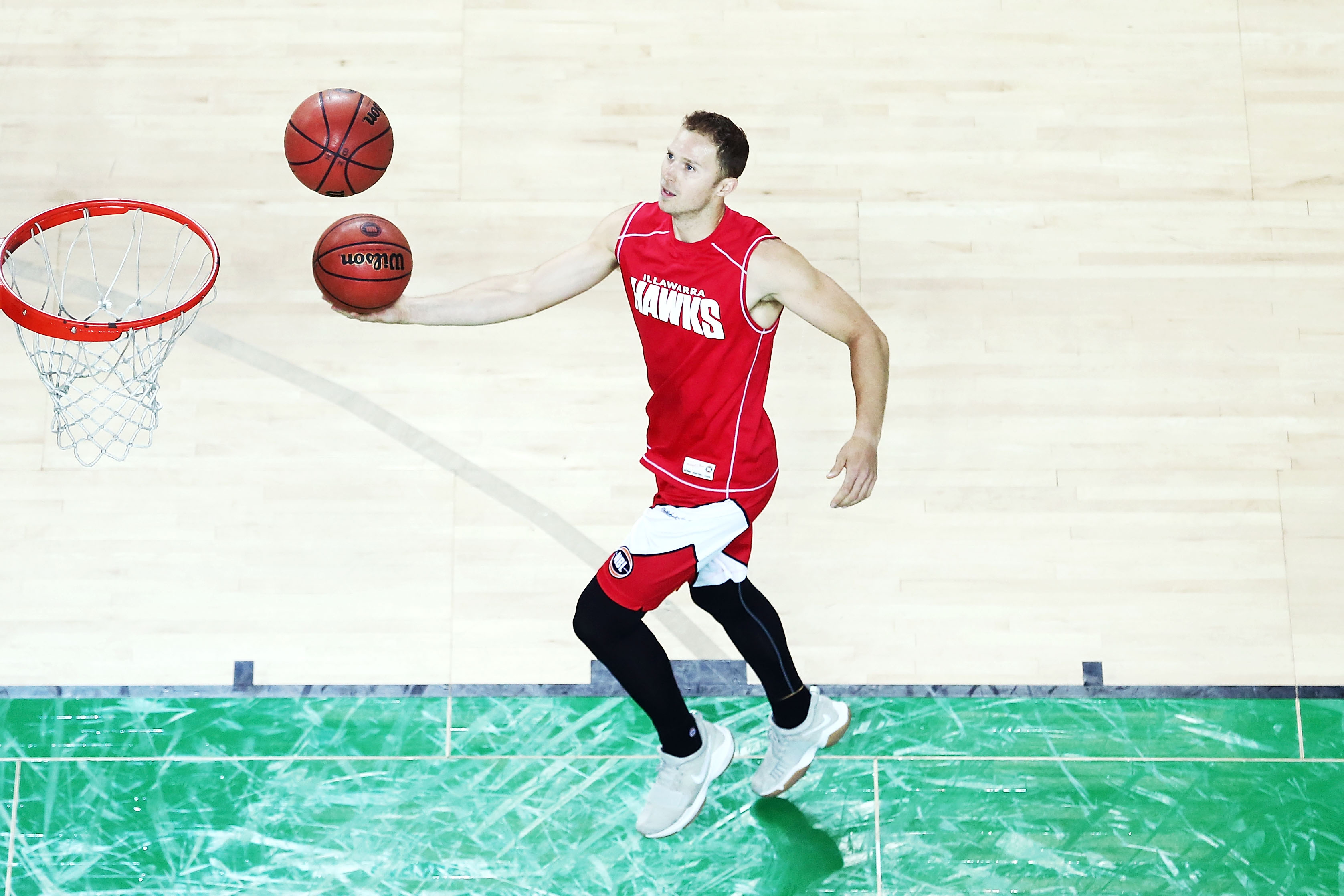 Tim Coenraad is fresh off two life highlights with the arrival of his baby son and making his debut for the Boomers, but the Illawarra Hawks veteran is excited for upcoming 3×3 events and for a future in the emerging format beyond his NBL career.
Coenraad's wife Nelly recently gave birth to their son Tyson and then with the Hawks missing the NBL finals, he got to make his debut for the Australian Boomers for the last of the FIBA World Cup qualifying matches in Kazakhstan and Iran.
So it's been a time where some lifechanging moments have kept Coenraad occupied, but he has been keen to remain involved in 3×3 basketball after the taste he got at Sydney's NBL Pro Hustle 3 in May last year.
He now is preparing to play on the Townsville team for a tournament in the Philippines and is going to take part in this year Pro Hustles as he begins to look ahead to a 3×3 career whenever it is that his days in the NBL come to an end.
"I really enjoyed the tournament I played in Sydney last year and it was a new experience, and a fun one. It's another brand of basketball that I feel like is taking off and you only have to look at the 3×3 circuit worldwide," Coenraad said.
"I know it's massive in places like Serbia and throughout Europe. I think it has some potential and you notice a lot of guys considered at the end of their 5×5 career who are making the transition.
"It's just another door to open up for a possibility to spend more time playing when I retire from 5×5 basketball. For the time being my main focus is the NBL and finishing my career there, but I just love basketball and any chance to get out and play is a plus."
Coenraad's immediate 3×3 future will see him playing on the Townsville team featuring Tim Keating and Keegan Tudehope on a tournament in Manila, Philippines before he again prepares himself to feature in the upcoming 3×3 Pro Hustle events.
Already Coenraad is looking forward to developing his 3×3 game further and while it's nice prizemoney is available, his goals of taking part are much more than just that.
"I'm playing on the Townsville team that Tim Keating put together. It looks like we have some fair talent on there with Keegan Tudehope on the team and they've also brought in an import to go on that Manila trip," he said.
"It's just another experience and a chance for me to travel to a place I haven't seen before. We are going there to compete and the prizemoney is nice, but for me that' secondary to the experience of getting over there with the team and competing.
"At the end of the day I want to win, I don't ever want to lose and then if we are successful it will open up opportunities for us to go and play different places. It's a great way to get around to different places and play some basketball while doing it."
Coenraad is now a veteran of 282 NBL games and at 33 is showing no signs of the end being near as he looks ahead already to the 2019/20 season with the Illawarra Hawks, but he knows the end will come to his professional 5×5 career at some stage in the coming years.
The fact that he now knows he can look forward to throwing himself more into playing 3×3 without the same grind on his body is something that's keeping him pretty excited about what his basketball future still holds well beyond his NBL days.
"That's what I'm seeing with a lot of these other guys, their ability to get up and down the whole court on the whole 5×5 court might have stopped. But as you get older you tend to get a little more physical and grumpy which is exactly the type of basketball you play in 3×3," he said.
"It's a lot more physical and they let a lot more go, so I think it takes a little bit of the wear and tear away of getting up and down the court. I think it is something I can push on with if I look after myself.
"The NBL is still the priority for me and I'm excited for the season coming up, but in the meantime as a way to stay fit and play some ball, 3×3 is a perfect opportunity to broaden my horizon a little bit."
While initially it was just a bit of fun 12 months ago, Coenraad now sees no reason why it can't be a realistic goal that he might even end up at the Olympic Games at Tokyo in 2020 thanks to 3×3 basketball.
Even if he doesn't make the Australian team, which he knows there's going to plenty of competition for, the fact that 3×3 is at a point now where it's an Olympic is only yet another reason to get involved for him and any number of others.
"It definitely comes into your mind, no doubt. It's an Olympic sport now and any opportunity to represent my country is fantastic and being realistic, basketball is the only thing I'm going to represent my country in if anything," Coenraad said.
"And 3×3 is something that provides another opportunity for that. Obviously I'm no walk in for that and I still have to compete for that spot with guys who have been playing a lot more than me who want that prizemoney at the tournaments to play at the Olympics.
"I'm not expecting anything, but it's a chance to represent your country and whoever makes that team to go to the Olympics which would be an absolutely once in a lifetime experience."
The silver lining for Coenraad of the Hawks missing the NBL finals in 2018/19 was the fact that he was then available for the Boomers' last FIBA World Cup qualifiers in Kazakhstan and Iran.
The 33-year-old might have thought his chance to make his Boomers debut was beyond him, but it became a dream come true to make that trip and represent Australia which will stick with him forever.
"It was an incredibly positive experience. The guys on the team were awesome and the coaching staff was amazing. Working with guys like Luc Longley and being around Mark Bradtke, and playing for Adam Caporn and Andrej Lemanis was a fantastic experience," Coenraad said.
"It was just about seeing a different approach and it's always refreshing to see another perspective, and they just made what was expected of you crystal clear. But in terms of putting that Boomers jersey and even being presented it, it was a fantastic feeling.
"Seeing Australia written on it with your name on the back, I took about five or 10 minutes just standing there looking at it and getting a little bit emotional.
"I had probably written off my chance given the talent in my spot both in Australia and overseas, but to get that call up was a no-brainer to say yes to.
"There was no way I was turning it down even though we've got a new bub and I have a business I run, I didn't care if Australia was playing in Antarctica, I was playing. I relished every opportunity to compete in two really good games and the atmosphere in Iran especially was crazy to be part of."
While Coenraad is excited by what his future in 3×3 basketball holds and his time with the Boomers in Kazakhstan and Iran was a life experience he'll treasure forever, his No. 1 goal career-wise remains life in the NBL at the Hawks.
He couldn't be happier for Matt Flinn to be his new head coach and can't wait to get to work with him.
"Flinny has done his apprenticeship and served his time to be ready to step into the coaching role," he said.
"It's a challenge for anyone to be a head coach for the first time but he's well prepared and he's learned under three really good professionals and I'm sure he's taken the best of what he learned from Eric Cooks, Gordie McLeod and Rob Beveridge.
"He is really excited for the challenge and I'm really excited to work with him because I know how much he loves basketball. He immerses himself in the game and the only challenge is that now the buck will stop with him and he'll get the credit and blame when things are going good or bad.
"I think he's ready for it and it's going to be awesome to work with him. I can't think more highly of Flinny, he's a really good human and I'm happy for him."
Not only has it been a big few months for Coenraad basketball-wise, his life with wife Nelly has had a significant addition in recent times with the arrival of their son Tyson.
"It's fantastic. You lose time just staring at him a lot of the time and especially with us and the journey we had to go through to get to here, it's been long and hard but it's worth it," Coenraad said.
"Especially my wife, she was made to be a mother and the way that she's carrying herself now and the glow she has being a mum is amazing. She's loving it and it's really cool to see her with him and really at this stage the father is just here waiting for a chance to get some cuddles.
"Mum's the one to meet all his needs right now and she's been an absolute champion. She's always been able to run on minimal sleep and is going fine right now and loving every bit of it."