Celebrating FIBA 3×3's 10-Year Anniversary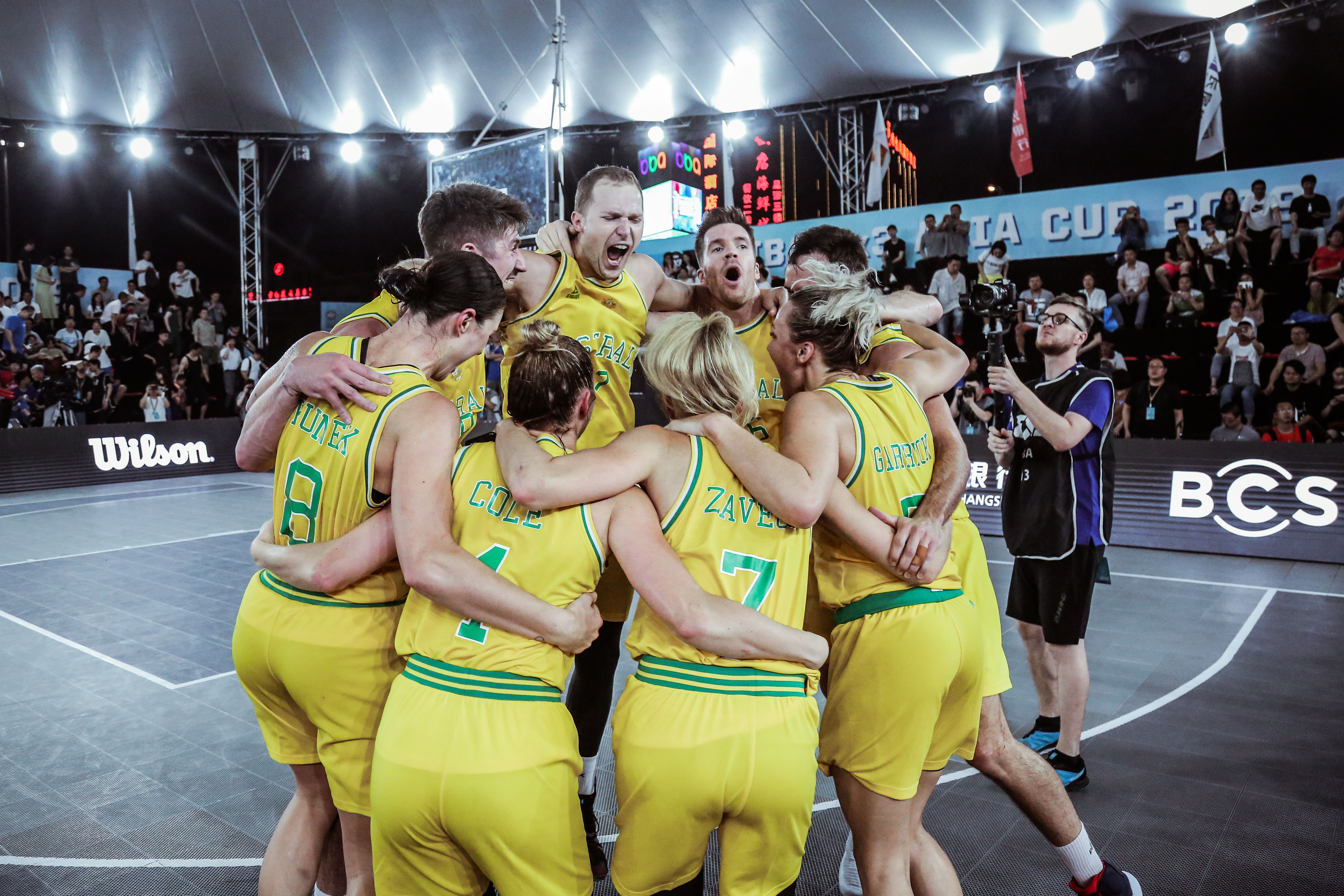 Happy 10-year anniversary! It's been a remarkable decade for FIBA 3×3, which has become a global sensation after the 21-point show stopper was officially launched at the Youth Olympic Games 2010 in Singapore.
It has spread hoops to new frontiers and achieved FIBA's goal of going from the streets to the Olympics with 3×3 set to debut at the Tokyo Games.
To celebrate this memorable landmark, here are the biggest moments in FIBA 3×3's history.
Youth Olympic Games 2010
There was much excitement for FIBA 3×3's international exposure starting on August 15, 2010. The fast and furious game had always been popular in playgrounds around the world but now it was time to showcase 3×3 on the big stage.
Testament to the intrigue, 3×3 at the YOG became the hottest ticket in Singapore. Basketball powerhouse USA were expected to dominate in the men's category but 3×3 is a different skill set and the Americans were beaten by Serbia in the semis.
Foreshadowing their later 3×3 dominance, Serbia easily beat rivals Croatia in the final.
USA women's team also suffered a shock semifinal defeat against Australia, who ultimately fell short against China in a thrilling decider.
It capped a memorable 3×3 debut that had newfound fans wanting more and made a lasting impression on the Olympic movement.
U18 World Cup 2011
After the Singapore success, FIBA capitalised on the growing interest and organised its first ever 3×3 event – the U18 World Cup 2011 in Italy.
The Rimini-based event, which featured 60 teams across men's and women's categories, started with a bang and perfectly showcased the thrilling nature of 3×3.
Both finals underlined 3×3's potential with New Zealand beating Bulgaria 19-18 and Spain edging hosts Italy 16-15 in the women's.
The ingredients cooked nicely in Italy and proved a successful recipe for FIBA 3×3 U18 World Cups, which have been played annually ever since. And always al dente.
First World Cup
The natural progression was the inaugural 3×3 World Cup, which was played in Athens. There were 64 teams competing for 3×3's newest prizes across men's, women's and mixed events.
Serbia started their 3×3 dominance from the get go with a 16-13 victory over France. Dusan Bulut aka Mr Bullutproof fired shots and was well supported by Marko Zdero and Marko Savic, who have become iconic players on the circuit.
Led by future WNBA stars Skylar Diggins, Bria Hartley and Chiney Ogwumike, USA won the gold in the women's by beating France, who did win the title in the mixed category.
The dunk contest was incredible and set the standard for what has become such a popular competition. Venezuela's Deivi Añanguren became the first champ with an amazing jump over a motorcycle for a perfect score of 30.
World Tour Debuts 
2012 was also momentous for the launch of the annual World Tour, which is 3×3's flagship city-based competition. The first ever World Tour featured 12 teams and five Masters played in some of the world's most famous cities capped off by the final in Miami.
San Juan wore the first ever 3×3 crown but, more importantly, this is when it all went pro. The competition proved an instant global hit and has become bigger and better.
There have been Masters played in almost every corner of the globe – staged indoors like in shopping malls, outdoors on traditional basketball courts or in iconic locations – to underline 3×3's growing reach.
The iconic  FIBA 3×3 Wilson ball
3×3 is a unique game – often played outdoors, extremely fast paced with rapid scoring – and one that required a different ball to basketball. A landmark partnership between Wilson and FIBA starting in 2015 addressed this.
The Wilson Official FIBA 3×3 Game Ball enhanced ball handling and grip for players of any size or skill level, while its heavier weight helped with shooting, especially in windy conditions outdoors.
The bold blue and yellow ball has become a beloved symbol of 3×3.
European Games 2015
The first ever European Games was 3×3's debut at a senior multisport games and it stole the show in Baku with packed crowds enjoying the spectacular on-court action where Russia reigned supreme with gold in both the men's and women's categories.
The fast-paced game was the only basketball discipline in Azerbaijan and showcased the talent beyond the hoops heartland. Ukraine, Switzerland, Ireland and the hosts performed strongly to illustrate the emergence of 3×3 across the continent.
The overwhelming success at such a major multisport event proved 3×3 was perfectly suited to the holy grail of sports – the Olympic Games.
Olympic Games Inclusion
This is the moment the entire 3×3 community had been waiting for. On June 9, 2017, the International Olympic Committee (IOC)'s Executive Board announced its decision to include 64 athletes (32 men and 32 women) for 3×3 as part of the Olympic Basketball program starting with the Tokyo 2020 Olympic Games.
It justified FIBA's ambitious vision and the message resounded worldwide – 3×3's legit and ready to rumble. Unfortunately, due to the Covid-19 pandemic, the Tokyo Games have been postponed but 3×3 will make its memorable Olympics debut in just under 12 months.
From the streets to the Olympics will soon become a reality.
1 Million Facebook likes 
3×3 is really compatible with social media and, quite literally, has reeled in one million fans. In 2017, during the Nantes World Cup, a major milestone was reached when the FIBA 3×3 Facebook page topped one million likes.
It's hard not to see why. Social media has been the perfect platform to showcase what makes 3×3 tick. The shared community has often melted social media down with the latest crazy viral 3×3 post.
From underdogs to champs
"ANYTHING IS POSSIBLE!" – Kevin Garnett memorably screamed after winning the 2008 NBA title. He could have also been referring to 3×3, where underdogs can quickly turn into champs like no other game. There have been numerous instances of this occurring over the past decade.
Perhaps best illustrating 3×3's mission statement, off-beat Mongolia has become a power in both the men's and women's formats. The country of three million people has never been a hoops power but made a 3×3 statement at the 2017 Asia Cup when the 12th seed won the title with a fairy tale run.
Other memorable occasions include Filipino team Manila West winning in front of their die hard fans at the 2014 Manila Masters after starting off as the 10th seed and 8th seed Italy (women) winning the 2018 World Cup on the back of a dazzling campaign from MVP and top-scorer Rae Lin D'Alie.
Novi Sad crushes the 2018 World Tour
Novi Sad were ridiculous in 2018, where they won their third World Tour final in Beijing to finish the season with a 32-0 record. Read that again if you must.
They were on a revenge mission after the agonising loss to Zemun in the 2017 finale and dominated like they were the 1992 Dream Team. Bulut, arguably the GOAT of 3×3, was never better and so too his superstar teammates.
One of the great things about 3×3 is its unpredictability given the short time frame. For the Serbs not to lose for an entire season has to be one of the greatest feats in sports and most probably will never be repeated ever again.
Women's Series Launch
After the World Tour's continual success, the time was right for a women's competition culminating in last year's launch of the Women's Series, where teams represented their national federation.
The first  edition consisted of 15 events and introduced fans around the world to a host of new 3×3 stars, including Migna Touré, Laetitia Guapo and the Plouffe sisters. It was unsurprising then that France and Canada dominated with 10 titles between them.
As evidenced by a brilliant Women's Series debut, the women's 3×3 game is in fantastic shape.
World Cup 2019
From those humble beginnings in Athens, the 3×3 World Cup had evolved into a major spectacle by last year's showpiece event in Amsterdam.
The six-day competition had everything, including some of 3×3's craziest finishes and saw USA (men's) finally become world champs with a devastating campaign, while China took home the title in the women's.
The stands were constantly packed at 3×3's biggest ever outdoor venue – located in historic Museumplein, right in front of the world famous Rijksmuseum.
The unforgettable event has become the gold standard of 3×3 tournaments.
World Tour 2019: $2M USD in prize money
There was double the money on offer in last year's World Tour than on Who Wants To Be A Millionaire?
The huge financial stakes is proof of the growing professionalism of 3×3 with players – and the next generation of youngsters – knowing they can make a healthy living by playing this great game.
Expect even higher incentives in the years to come.