3×3 Big Hustle Uni National Championship Returns in 2023!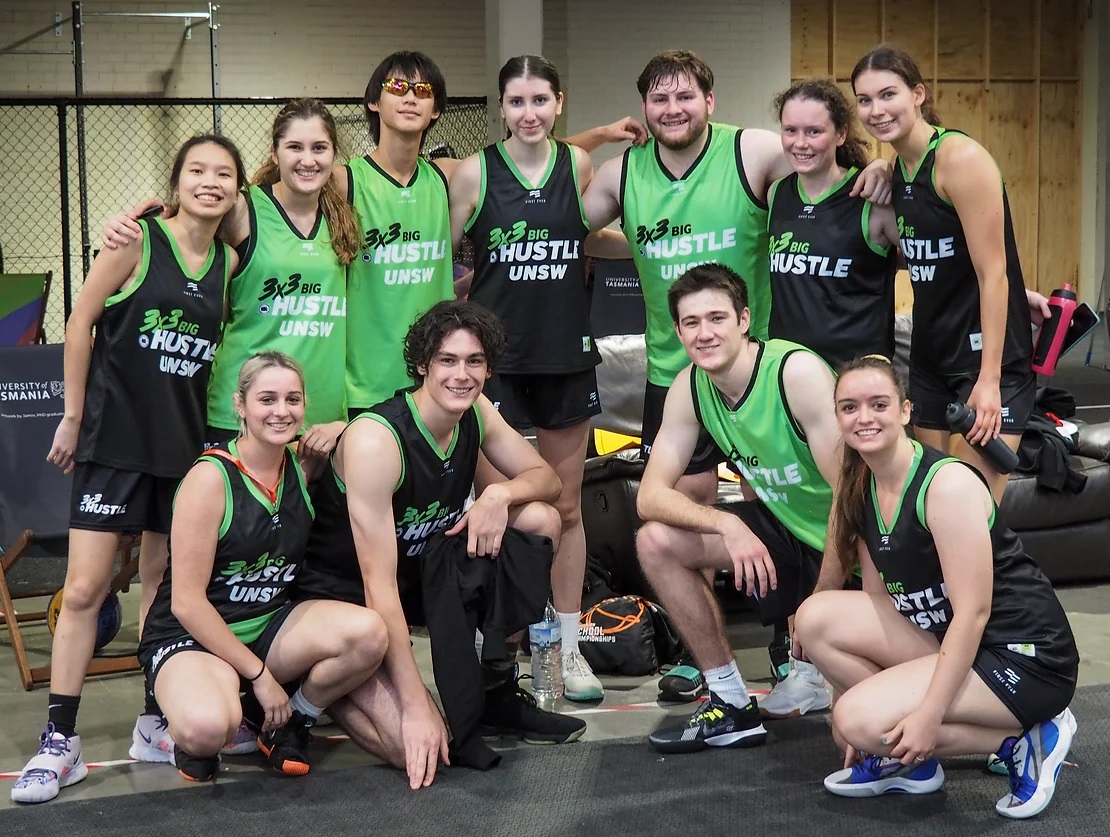 3x3Hustle in partnership with UniSport Australia (UniSport) is pleased to announce that the 2023 UniSport Nationals 3×3 Basketball Championships will be hosted in Sydney, New South Wales. From 11-13 April, the championships will attract teams from UniSport's 43 member universities to compete in both men's and women's competitions.
The championships will take place at the newly re-developed Village Sport Precinct at UNSW Sydney's Kensington campus, which now boasts a suite of outdoor multipurpose courts, an all-weather field, running track, outdoor gym, and bouldering wall.
"Arc Sport and UNSW are excited to host UniSport Nationals 3×3 Basketball in 2023. It is a great opportunity to showcase our newly built Village Green Sport Precinct on the national stage and will provide UNSW students with the change to support their peers competing in the national competition. It also aligns perfectly with our aim to further develop sporting pathways to UNSW students" shared Director of Student Engagement, James Yau.
This is the first time that a UniSport Nationals Championship event will be hosted at UNSW. UniSport Chief Executive Officer, Mark Sinderberry believes that this event is a great opportunity to showcase the new sport, recreation, and wellness facilities at the Village Green Sport Precinct.
"Hosting this event on campus will allow us to showcase not only the competitive university sport opportunities that exist to the broader university community but also world-class facilities recently opened at UNSW Sydney."
"This event, like many other Nationals competitions, has an important impact on the student experience and it also provides a progression opportunity for international representation," he added.
UniSport are excited to continue working alongside NBL 3x3Hustle, Australia's official 3×3 basketball pathway to conduct the championships, branded as the 3×3 Big Hustle Uni Nationals.
Head of NBL 3x3Hustle, Jaele Patrick is excited by the growth of the 3×3 and the increased standard of the competition each year.
"3x3Hustle is proud to partner with UniSport for a fifth year and looks forward to bringing 3×3 Big Hustle Uni Nationals to the University of NSW. Given the growth of 3×3 basketball following Australia's success at the 2022 Commonwealth Games, no doubt the 2023 Uni Nationals will be the biggest yet."
The 3×3 Basketball championships form part of the UniSport Nationals annual competition structure, which is comprised of over 40 sports. The championships will see the top-placing teams progress to the FISU Oceania qualifying tournament for the 3×3 Basketball University World Cup later in the year.
Registrations for the Uni Nationals will open soon.